With Valentine's Day fast approaching and if you're feeling despondent at your lack of Valentine's Day cards, take heart in the fact that at least you haven't received any as cruel as these.
These vicious Valentines are part of the Laura Seddon collection of Victorian greetings cards, in Manchester Metropolitan University's Special Collections, and demonstrate a side to the Victorians far removed from the prudish, sentimental side we expect.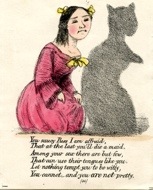 Stephanie Boydell, curator of Special Collections at MMU, said: "I think that there is a very particular popular view of the Victorians that casts them as sentimental and prudish, but with a hidden seedy and even sadistic alter ego. These Valentines offer us a glimpse of the true character of the Victorians.
"There are those cards that are overly fussy, frilly and that are a bit too sentimental for contemporary tastes, but then there are also those that show a sense of humour that can only be shared with a very good friend, and some that are plainly suggestive – although the fact they were sent anonymously may have made the senders much braver in their approaches than if they were face to face with the object of their desire!"
A selection of the Victorian Valentines are currently on display in the foyer of the Sir Kenneth Green library until the end of the month.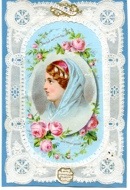 Other examples of humorous Valentines in the collection include mock documentary cards in the form of marriage certificates, telegrams, summons and banknotes.
The collection which also includes Christmas and general greeting cards was amassed over 25 years and was donated to the University in 1991. The collection includes more than 50,000 cards, of which around 1,000 are Valentines.