Urban Splash has officially launched the first phase of hoUSe, a new concept which offers customers bespoke, architect-designed homes.
hoUSe represents an alternative to the established mass house-building schemes across the UK in terms of design and delivery; the first hoUSes are situated on a waterfront site at New Islington, Manchester and all 43 homes in the current phase have sold out pre-launch.
They adopt a traditional terraced approach but, thanks to an innovative design template from Urban Splash and its award-winning architect shedkm, customers can choose their layout; be it the 1,000 sq ft two storey hoUSe or 1,500 sq ft three storey version. Customers then decide whether they choose open plan or traditional designs, loft or garden living layouts – determining whether their living space is on the ground or top floor, as well as specifying anything from one to five bedrooms.
Speaking of the concept, Urban Splash Chairman Tom Bloxham MBE said: "hoUSe is born from our desire to create something for customers who want to live in well-designed homes and stay in the city centre. We noticed that within UK cities there is a real lack of diversity in terms of new residential stock and our traditional customers – those who had bought and enjoyed Urban Splash flats – would ultimately get older, richer and end up moving to Victorian and Georgian terraces in the suburbs.
"hoUSe is our way of offering them something in the city. It's a really exciting prospect and I am as excited by this as I was by our first lofts over 20 years ago. At prices less per square foot than city centre flats, lower maintenance costs than old Victorian houses or blocks of flats, big floorplates, high ceilings and huge windows they have already been well received and I'm certain will be a big part of Urban Splash's future."
Each hoUSe is made of volumetric timber pods that are delivered to site and assembled with a minimum disruption to neighbours. The benefits of building homes in this manner is that all standards and tolerances can be monitored in a modern, factory-controlled environment, meaning the houses are warm and incredibly energy efficient, as well as flexible to plan and adapt. With a striking modern design, featuring familiar pitch roof motifs, the hoUSe has proved incredibly popular and sold out prior to construction. It's not just the method of construction that is revolutionary but also the manner in which hoUSe was conceived.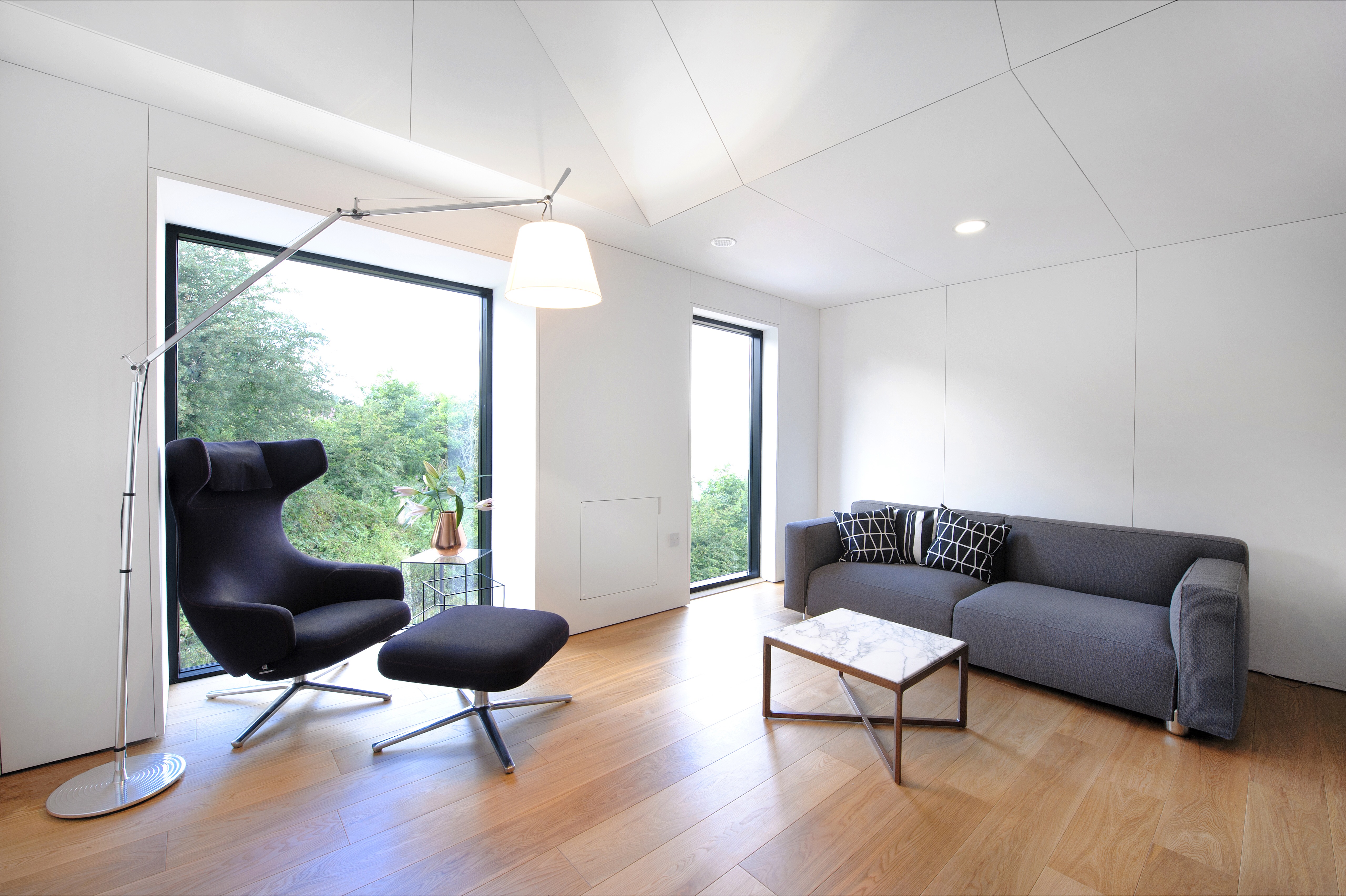 It's a new construction method which Tom hopes will reignite a passion amongst buyers for new build: "We were surprised to find that when looking to move, 64% of the population don't even consider new build – a statistic which seems strange and in contrast to our inclination to buy new when it comes to cars and technology. This new approach will hopefully give design-conscious buyers something to consider in the new build market."
hoUSe can easily be adapted for a range of different locations across the UK with planning achieved for further hoUSes at New Islington as well as Irwell Riverside in Salford and Smith's Dock in North Shields.
The hoUSes at New Islington are 10m long and 5m wide; grey exteriors are broken up by thick-banded black window bays that offer occupants views out over Manchester, while also allowing an abundance of sunlight to enter the rooms. This approach to upside down living was pioneered by shedkm and Urban Splash at award-winning Chimney Pot Park.
Ian Killick, director at shedkm, said: "We're delighted to see the first phase of the hoUSe project completed at New Islington. This concept has been a long time in the making and we believe that it is a game-changer to tackle the current housing shortage this country is facing. They also happen to be homes that people are proud to live in."