Manchester is revered for its amazing array of land-based casinos. The city currently boasts an impressive 11 casinos, including Genting Casinos and Grosvenor Casinos.
Manchester is a hive of activity for casino aficionados. This glorious city is home to a
mesmerizing array of land-based casinos. Foremost among them is the glittering Grosvenor
Casino Soames.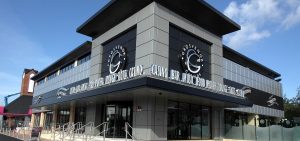 Located at 35-39 George Street, in Manchester, this bricks and mortar casino truly dazzles the mind. Patrons are required to dress the part, with smart-casual attire. A full
array of casino games is available to greenhorns and seasoned players alike. These include slot machine games, poker games, Baccarat, Roulette variants, Blackjack, and Craps.
Fashioned off the elite Grosvenor brand of casinos, Grosvenor Casino Soames is the
consummate venue for high class casino entertainment.
Players are privy to red carpet treatment from inception to cashout. It's the sum total of the gambling experience that titillates the senses;fine dining, unparalleled entertainment, and gaming excellence.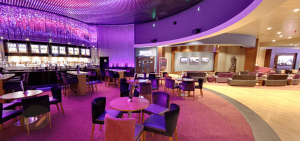 Fortunately, this casino has perfected the art of customer service with professional and polite staff.Many a player who breezes through the doors of this casinos is chuffed with the mice en scene,and the quality of the overall experience. As one of the premier land-based entertainment venues in Manchester, it's worth reviewing a few more of the features of this top casino.
Genting Club Casino works hard to maintain the standards of gaming excellence that UK players have come to expect. As one of the most liberal European gambling enclaves the UK has certainly raised the bar on gaming excellence. This casino certainly fits the bill and delivers on expectations.
Genting Club Casino is located at 110 Portland Street, in Manchester. This trendy,
land-based casino is open around the clock.
As with other premier Manchester casinos, the dress code is smart-casual and there's
complimentary valet parking after 7 pm. This venue features a selection of Poker, Baccarat,
Blackjack, and Roulette tables, with a fine variety of classic slots, video slots and progressive jackpot slot machine games. Genting Club Casino certainly warrants your attention as it is one of the finer casino establishments in England.
Provided you're at least 18 years old with a valid ID, you're welcome to revel in the majesty of this gambling enclave. While membership is not required, it certainly helps. All members are privy to a variety of promotional offers including discounts, deals, and specials. Located minutes away from Oxford Road, and about 4 km from Victoria Station, it's easily accessible for a top night out. The amenities at this casino are worthy of mention.
As a sports fan, you'll likely be celebrating the facilities at Genting Club in Manchester. There are great bars where you can catch the latest footy, with Manchester United and other English Premier League teams.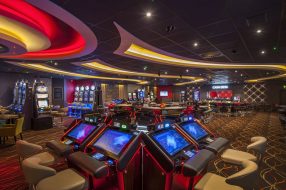 As far as casino games go, Genting Club in Manchester is chock-a-block packed with fun.
Players will have no problem picking a fab variety of casino games. These include electronic
Roulette games, Three Card Poker, 8 Blackjack tables, 8 American Roulette tables and more slots than you can shake a stick at. For the Baccarat fans out there, it's always game time.
Fans of skill-based card games will love the NLH (No Limit Hold'em) games that are available. Manchester City Council sanctions all the gambling activity at this upscale venue, in tandemwith the United Kingdom Gambling Commission (UKGC).
The Rapid Growth of the UK Casino Industry
The United Kingdom features a sprawling gambling industry and is easily one of the most developed gambling enclaves in the world. Increasingly liberal gambling legislation has led to prolific growth in the online casino sector. Players across the UK are privy to a wide selection of gambling options, including land-based casinos and online casinos. Leading casinos are expanding their reach through online casinos.
The UK is years ahead of the competition, with many top-tier online casinos operating alongside land-based casinos.Technology has evolved to the point where land-based casinos are now providing exciting table games and card games direct to players in their homes, or on the go. Live casino games stream from secure casinos via uninterrupted feeds to your screen.
The rapid technological advancements in live dealer gaming now blur the lines between land-based casinos and online casinos. A perfect example of a UK leading online casino is 888 casino, with its impressive catalogue of live casino with real dealer games. Players can register from the comforts of home anywhere in Manchester or elsewhere in the UK and login to play their favourite games of blackjack, baccarat, roulette, or poker with authentic dealers.
Manchester 235 Casino is dubbed the number casino in the city, and for good reason. It's an iconic casino with the finest games, live entertainment, and top-notch service. Manchester 235 is located at the Great Northern Warehouse, and its operated by Caesars Entertainment.
As a casino aficionado, you'll find this venue ideal for non-stop entertainment. Style, glitz and glam are part of the deal, every time you play at Manchester 235. What makes this A-grade venue all the more alluring is its focus on the overall experience. From fine dining to gaming excellence and late-night partying – it's all there at Manchester 235 Casino.
Among the many amenities available to casino fans are 37 electronic Roulette machines, a sprawling Poker Lounge, 22 gaming tables, slot machine games and dozens more electronic gaming machines. While no membership is required, members are party to exclusive promotional offers courtesy of the generous loyalty program.
The game variety includes American Roulette, Blackjack, Punto Banco, Three Card Poker, and an entertaining ensemble of slots. With jackpots as high as £20,000, the 4-dozen or so electronic gaming machines are designed to impress. Top slots include Flexi-Link progressives, Fort Knox jackpots, Dolphin's Pearl, Book or Ra, Pharaoh's Fortune, and Lucky Lady. Bets start as low as 20p and rise to £5 per spin.
In between all the excitement, players can kick back and relax at the decadent VIP Booth, the VEGA Lounge, and the ICON VIP Bar. Sports fans will relish in the excitement of the Carlsberg Sports Bar- arguably the finest in all of Manchester, according to those who frequent this stylish venue. And with all the live shows taking place, Manchester 235 Casino is a fusion of modern-day ritz and old school glitz. You can expect everything from top pugilists, to vintage burlesque. This is the real appeal of Manchester 235.
Grosvenor Casino Soames Fast Facts
Who Owns It –

G

rosvenor Casinos Limited
Capacity

– Several hundred players
Slots, Roulette and Blackjack Tables-

12 new Baccarat terminals recently added, Blackjack tables, HD Electronic Roulette games, and several jackpot slots games. There are a limited number of high quality machines available to players.
Special Characteristics and Atmosphere, Design Elements-

Neon lighting, modern-style gaming tables and excellent cuisine.
Unique Information – Grosvenor Casino Soames recently underwent a £1m refurbishment. This contemporary-style casino is smaller than others in Manchester, but equally enticing with high-class entertainment. There are 2 Grosvenor Casinos in the city, the other is located in Didsbury.
Genting Club Casino Fast Facts
Year Founded –

Genting Casino has been operational for 40 years in the UK.
Who Owns It –

Genting Casinos UK Ltd, and the Genting Group.
Capacity-

8500 ft.² of floor space accommodates thousands of players.
How Many Slots, Roulette and Blackjack Tables –

8 American Roulette tables, 8 Blackjack tables, 2 Three Card Poker tables, 6 Baccarat tables, 30 Electronic Roulette terminals, 4 Poker Tables,
Special Characteristics and Atmosphere, Design Elements-

this land-based casino offers opulence, extravagance and elegance aplenty. This smart-casual venue boasts the world-famous Fahrenheit Restaurant.
Famous Wins/Winners –

Real Housewives star

Tanya Bardsley

bet

£1 and won £500 on a slot machine game.
Unique Information – Players can enjoy Super V+ Gaminators with £10,000 jackpots, and Dominators with 3D screens and £10,000 jackpots.
Manchester 235 Casino Fast Facts:
Who Owns It –

London Clubs International and Caesars Casino (Nevada).
How Many Slots, Roulette and Blackjack Tables –

Manchester 235 Casino features 37 Electronic Roulette tables, 1 Poker Lounge, 18 Slot Machines, and 22 Gaming Tables.
Special Characteristics and Atmosphere, Design Elements –

Ultra modern appeal, with plenty of fast-paced games and a lively atmosphere.
Famous Wins/Winners –

Manchester United player

Wayne Rooney

bet and lost £500,000 playing blackjack and roulette in a single night.
Unique Information – Manchester 235 Casino Won the European Casino Operator of the Year in 2016 and 2017 and 2018. This land-based casino is fashioned off the ritz and glitz of Las Vegas-style casinos, and regularly showcases incredible live events. The milieu is one of pure decadence with a fusion of traditional and modern architecture.