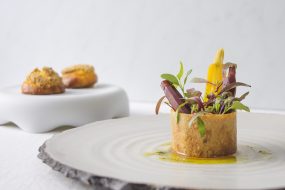 The Rabbit in The Moon, located in Manchester City Centre, will be hosting critically acclaimed Leeds restaurant HOME.
Located on the top floor of the Ubis building, the fine dining restaurant will be joining forces with HOME to offer an exclusive dinner on Thursday 19th July.
The evening will be a unique opportunity to experience a special tasting menu where dishes from the two restaurants will be served side by side. Combining HOME's modern British reimagining of familiar flavours with The Rabbit in The Moon's technically innovative and progressive dishes, this one-night-only event will showcase the very best from two of the North Wests's most exciting and renowned new restaurants.
While on paper it might seem like an unlikely pairing – HOME providing its signature refined take on classic British flavours and ingredients at the height of seasonality, alternated with The Rabbit in The Moon's intense and visually impressive flavours – the dishes have been selected to harmonise and flow while representing the respective restaurant's identities
The set menu is priced at £70 with the option to add on an expertly paired wine flight for £55. A vegetarian and pescatarian menu is also available. Tables are available at 7pm, 7:45pm and 8:30pm and booking is required.
The Menu
Bloody Mary & Bacon
White Chocolate, Cherry & Pistachio Lollies
Smoked Eel, Oyster Sauce, Avocado
Porthilly Oyster, Pickled Ginger, Wasabi
–
"Carrot Salad", Heirloom Carrots, Tartare, Hazelnut & Fennel
–
Mackerel, Black Sesame, Strawberry, Ponzu
—
Suckling Pig, Gooseberry Turnover, Black Pudding, Burnt Onion.
—
Roast Duck Breast, Singapore Noodles, Salt & Pepper Squid, Plum
—
Coconut & Caramelised White Chocolate
–
Raspberry Cheesecake, Tarragon, White Chocolate
—
Petit Fours
The Detail:
What: The Rabbit in The Moon and HOME collaboration dinner
Where: The Rabbit in The Moon, Urbis Building, Corporation Street, Manchester, M4 3BG
When: Thursday 19th July, tables available to book at 7pm, 7:45pm and 8:30pm
Price: £70 for full set tasting menu and £55 for wine pairing
Contact: 0161 804 8560 / info@therabbitinthemoon.com