The Pen and Pencil has relaunched their menu to include a whole bunch of vegetarian and vegan dishes that will delight all palettes.
National Vegetarian Week, last month, raised awareness that diners expect a good choice of meat-free options when they dine away out at a restaurant.  Even meat enthusiasts are attracted to fabulous veggie curries and are swapping their usual steaks for seitan. When it comes to eating out at The Pen and Pencil, there's no reason to expect "rabbit food". They're offering an impressive selection of vegetarian and vegan dishes to cater for all taste buds.
The new menu includes:
Beetroot Falafels – A twist on a classic veggie favourite, with the beetroot adding a mouth-watering flavour as well as a colourful plate. These Moroccan beauties come grilled and served on a bed of salad – so it's healthy as well as animal friendly.
Moroccan Stew – Diners won't be missing meat with this hearty stew. With lentils, spinach and sweet potatoes, this dish packs a punch in terms of taste as well as including more than the recommended five a day. Win-win.
Chickpea Curry – It may seem like your typical vegetarian option, but this American Chickpea Curry is extra creamy and comes a secret ingredient of maple syrup to wow taste buds. Curry fans will be racing to try this one.
Grilled Halloumi Burger – No veggie menu would be complete without halloumi; a key staple of any vegetarian diet and The Pen and Pencil have gone all out to create a great meat-free alternative for burger fans. The dish comes served with spicy tomato chutney served in a brioche bun, so it's packed with flavour.
The Pen and Pencil have even made adaptions to their breakfast and brunch dishes, with delicious American Pancakes and the favourite Breakfast Hash getting the veggie treatment. Cajun Spiced Okra and Deep Fried Lotus Fruit are also appealing meat-free sides to accompany your meal.
Daniel Pollard, owner of The Pen and Pencil, said "We've been noticing the demand for veggie and vegan food for a long time and we wanted to reflect this in our new menu. Even non-vegans always seem keen to try new dishes without meat or fish so it made sense to include several key dishes as opposed to just one or two. We wanted to offer something completely different from the standard veggie options you see so we've gone for unique and original dishes to cater for all tastes."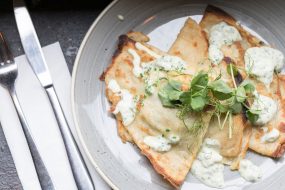 Food service runs from 10am – 9pm Monday to Thursday, Fridays 10am – 8pm and 10am – 5pm on weekends.
For more information visit http://www.thepenandpencilnq.co.uk
About the author: 
Marie Harwood is a Digital Marketing Assistant at Different Gravy Digital, Hale, Cheshire.
Different Gravy Digital are a full service Digital Marketing Agency operating in the Hospitality & Leisure, Financial Services, Legal & Property sectors.  Products and services range from; 3D & 360° Tours, Website Design & Build, Social Media, Video Production, Search Engine Optimisation (SEO), Content Creation, Email Marketing, Online Feedback / Review Systems and Paid Advertising (Google, Bing and Social Media).
Contact Details:
marie@differentgravydigital.co.uk
0161 706 0004
120a Ashley Road, Hale, Altrincham, Cheshire, WA14 2UN