Christmas is a time of giving to those you love. The focus at this time of year primarily falls on our children. However, there has been a large dose of controversy across the UK this year as the prices of most popular children's gifts have rocketed, more than ever. Not only that but from choke hazards to prices that are simply outrageous, there are a number of reasons many UK residents will be putting their foot down against some of this year's 'must have' products.
10 – Diggin Slimeball Slinger & Target Practice Pack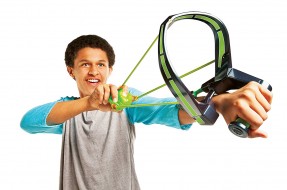 Despite being marketed on it's parent-friendly 'no mess' feature, the Slimeball Slinger has been brought to attention to be one of the most dangerous toys of Christmas 2016. Although targets are provided along side the toy, many children's first instinct is to aim the product, well, elsewhere. What's more, due to the popularity of this product, it's rocketed to prices of up to £120.
9 – Bump n' Bounce Body Bumpers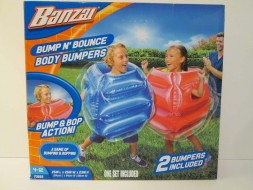 Bump n' Bounce have been named another of the UK's most dangerous, yet also most popular products of Christmas 2016. These inflatables have even managed to go out of stock in many stores. Of course, due to the high demand, many stores are boosting prices, because they can. However, many parents have taken to social media to express their lack of enthusiasm toward paying £70+ for beach balls with arm holes & encouraging their children to run into one another.
8 – Peppa Pig Muddy Puddles Family Action Figures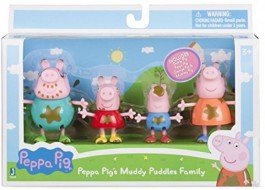 The Peppa Pig Family set has been advertised as being suitable for children as young as 3. However, this is another gift set which has been highlighted as dangerous for young children, as parts are included which are serious choke hazards for younger children.
7 – Star Wars Bladebuilders Spin-Action Lightsaber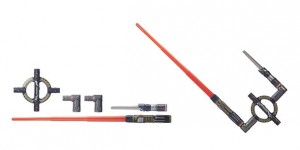 In comparison to many of the toys hitting the shelves this year, the Star Wars Bladebuilders aren't particularly dangerous. They are, however, made completely out of plastic, have no other functions & cost a hefty £44.99.
6 – The Barbie 3-Storey Townhouse Playset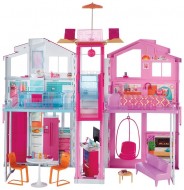 Barbie is a household name & Christmas is no exception. However, the 3-Storey Townhouse has raised a few eyebrows this year. The play set, complete with tiny furniture, is hitting average prices of £84.99-£100+. What's more shocking is that this doesn't cover the price of Barbie herself. That's right, as usual – no Barbie included. Another point which is turning heads is that the manufacturers over at Barbie deem the product suitable for children aged 36 Months (3 years old), despite the product clearly containing a rather large number of items which could be a choking risk.
5 – Hatchimals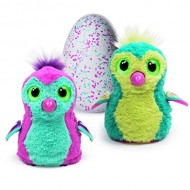 Hatchimals have been the most controversial product of 2016, which is why it lands directly in the middle of the lineup. The nation seems to be divided over whether they're really worth prices of £100+. Hachimals are essentially a stuffed toy on wheels, which your child will invest a large amount of time in waiting for before it hatches from it's shell. Many parents have complained that once the htching is over, the features of a hatchimal are in fact, very limited. On the other hand, Hatchimals still stand at one of the UK's most bought toys throughout the whole of 2016.
4 – The Force Awakens Remote control BB-8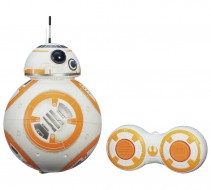 In terms of value, BB-8 falls into a much more reasonable category than many of the other products & has fallen into many pieces in the media regarding this year's best gifts. When it comes to huge trends such as this year's new Star Wars Movie, the toys and merchendise which follow usually produce a hefty price. Many parents across the UK were delighted with the £44.99 price tag.
3 – Minions Pie Face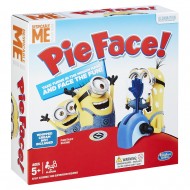 Kicking off our top 3, Pie Face games have shaken the nation. Toys R Us has outdone them all with their delightfully playful Minions addition. This is a must have this Christmas as it's hilarious fun for the whole family!
2 – FurReal Friends Torch My Blazing Dragon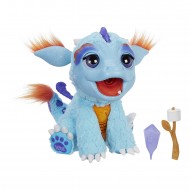 Aside from the fact that the name is questionable, FurReal Friends have brought out the ideal companion for your little ones this Christmas. For under £45, My Blazing Dragon is an interactive & responsive toy which breathes colour changing mist, amongst other features.
1 – Furby Connect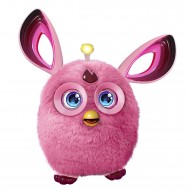 Although they are reaching prices of £100+, if you can find it at the right price for you, Furbie Connect is a don't-miss gift this year. When connected with an interactive app on any tablet or mobile, Furbie can use over 1,000 phrases, use it's eyes to create facial expressions & is even complete with interactive games & a sleep mask (for when mum & dad need a break from Furbie). Get Furbie from £64.99 here.