The Stonehouse Salon & Spa has opened its door and welcomed its first customer – Singer and TV personality, Jenny Frost.
The Aveda salon, owned by creative director Craig Stonehouse and his partner Craig Harris, is based on Library Street, Wigan.
Craig Stonehouse will be leading the team, bringing 15 years of experience of hairdressing having worked at leading exclusive salons across London, as well as London Fashion Week.
Craig Stonehouse, creative and colour director said: "I wanted to bring the London salon experience to the people of Wigan, but without the hefty prices.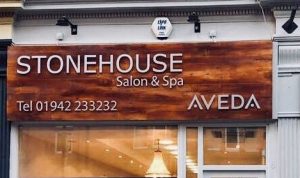 "Having your hair done should be an experience – not a chore. When stepping into our salon, people will be personally welcomed and pampered, as well as receive a personal bespoke service from a leading stylist."
Stonehouse Salon & Spa is an official partner of Aveda. It operates via the same ethos and only uses Aveda's naturally derived products, which are sourced without harming the environment.
For the opening weekend, all customers will receive 20 per cent off their first cut. Repeat custom will be rewarded with further discounts as part of its exclusive membership club.
Craig Harris, managing director of Stonehouse Salon & Spa said: "I was born and raised in Wigan and feel really proud to be able to return to my roots and launch this new venture in my home town, and be part of the exciting regeneration that is transforming Wigan."
The salon will be open Monday to Saturday every week during the following times: 
Monday – 9am-5pm
Tuesday – 10am-6pm
Wednesday – 10am-6pm
Thursday – 10am-7pm
Friday – 9am-7.30pm
Saturday – 9am-5pm
Sunday – closed