Top Olympian athletes Fran Halsall, Jessica Varnish and Liam Phillips have opened the doors to their first business venture together, combining their mutual love of coffee in the aptly named 'Common Ground' café in Altrincham.
The café on Shaws Road, previously home to Mirabelle's Café, will sell a variety of both healthy and not-so healthy treats, including organic baked goods and delicious cakes.
Speaking about the new venture, three-time Olympian Fran said: "The whole idea came about just after the Rio Olympics. There's a great vibe and movement happening in Altrincham, with plenty of inspiring restaurants and independent shops opening up. We used to eat here all the time, so when a unit became available, it was too good an opportunity to miss!"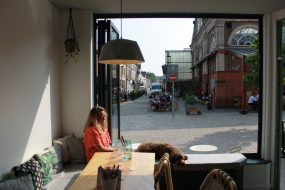 The café is perfect for those hoping to enjoy the British summer, with bi-folding doors at the front and back of the café that open up entirely to the outside.
As Fran explains: "We've made the best use of space by installing the Origin Bi-folding Doors, which are amazing. They fully fold back so people can sit and have their coffee in the fresh air. At the other side of the café is another set of bi-fold doors to what we call the 'Zen Den', a relaxing courtyard and seating area. It's minimalist and Scandinavian in style, with beautiful wooden tables and pastel green and grey decor, which makes it a beautiful space to enjoy a cuppa."
The open plan style also allows for four-legged visitors, with Common Ground having an open door policy for dogs. "In addition to our shared passion for sport and good coffee, Jess, Liam and I are all dog lovers, so the café is definitely dog friendly. Our pets can sit in the window and watch the world go by while we're serving the customers!"
The café kitchen is still under construction, but will be serving up hot meals over the next few weeks, with a brunch menu on the horizon.
Common Ground will be open Tuesday-Sunday, 8am-6pm.