El Gato Negro, the aware-winning tapas restaurant, has announced it will be "business as usual" this New Year's Eve. The acclaimed venue will operate a normal service and invite diners to enjoy great food, drinks and excellent company like any other day of the year.
Guests can dine from the seasonal menu, which boasts simply, bold and confident tapas dishes.
Speaking on the decision, Chef Patron and Creative Director, Simon Shaw, said:  "New Year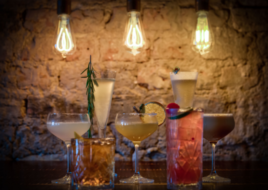 is a time to come together and raise a glass with family and friends.  Not everyone likes to do so with the fuss of a large event however, which is why we've taken the decision to open as usual.
"We'll be keeping it simple and taking reservations as we would any other night of the year and let the food and wine do the talking.  Come midnight, I'm sure we'll be joining guests in a drink too."
Since opening in February 2016 El Gato Negro has established itself as one of the city's most successful restaurants, winning a raft of coveted national and regional awards.
Earlier Simon opened his second restaurant, Canto, at the heart of industrial Ancoats, bringing modern Portuguese cuisine to Manchester city centre.   The restaurant is run by Head Chef, Carlos Gomes.
Speaking on the last 12 months, Simon added: "What a year!  I'd like to say I've had the chance to stop and reflect on it but it's been none stop and that's not going to change over the coming weeks as Christmas kicks in. 
"Seriously though, I wouldn't change a thing.  It was never going to be easy launching a second restaurant alongside El Gato Negro.  It's new territory for us and we've learnt a lot along the way; we're still learning.  What I can say however is that we've got the best team and I couldn't be more proud of what we've achieved.
"The response we've enjoyed to the launch of Canto has been incredible and the support we've received along the way is overwhelming.  We've a busy few weeks ahead but come January, I'm looking forward to taking it all in and raising a glass with the team."
Reservations for New Year are open now.  For further information or to make a reservation please call 0161 694 8585 or book online at https://www.elgatonegrotapas.com.
Group bookings are invited for parties of seven to 16 with a specially curated set menu available.