This November, a brand new kebab concept is set to open in the Northern Quarter, driven  by the team behind brunch favourite The Pen & Pencil.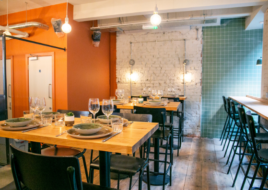 BAB will be a quality, grown-up kebab concept, serving the grilled meat favourite in an all day long, 60 cover restaurant with an open chargrill kitchen. The ground floor venue just off Stevenson Square will open on 5th November to the public.
BAB will be known for their fresh, flavourful, creative kebabs. There will be homemade marinades sauces and even homemade iced teas.
BAB will be open for comfortable, casual dining 7 days a week, from 12-10pm. The venue is aiming to be the new go-to for both NQ locals and out-of-towners for good, fresh easy-going food all day long.
The team will use locally sourced ingredients, and will encourage customers to try new fresh, vibrant flavours when they dine. These are kebabs worth sitting down for.
The team are passionate, knowledgeable, and there will be regular training, tastings and development of the menu to keep it fresh.
The new restaurant has been created as a relaxed space, with wooden tables plenty of whitewashed brick and deep green tiles in the open plan charcoal kitchen.
The menu, will include both Kebabs, and non-babs, with a selection of Meze which can be shared by the table or eaten as a starter.
Kebabs will include the Lamb Adana with with feta labneh, radicchio and pomegranate; Chicken with aleppo chilli, hummus, and peppers; or Hanger Steak with cauliflower, cumin and chilli. Vegetarian options will include Paneer with carrot and currants; or Falafel with tomato, harissa and pistachio. Kebabs will be served with homemade flatbread and pickled chilli.
There will also be a selection of 'non-babs' to include Stone Bass with winter tabbouleh or Aubergine with tomato, kale and baba ganoush.
There will also be a selection of Meze dishes including Hummus, Lamb Bon Bons, and Coal Baked Sweet Potato.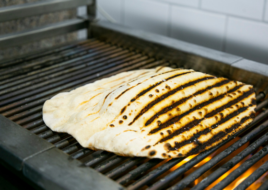 Speaking about BAB, Kevin Connor comments; "This new concept, completely different from what we do at The Pen and Pencil, is all about the food. Everyone's eaten a kebab, often on the way home from boozy nights out! These though will be special – fresh, vibrant and full of flavour. Our chefs have spent the last 6 months creating the menu, we're going make our own bread, our own paneer and have some amazing cuts of meats and fish with home-made marinades and sides. I can't wait to get open and show it to Manchester."
For Mancunians wanting to be first on the BAB scene, they will be offering 50% BABs on the 5th and 6th December. To qualify for 50% off, bookings must be made to eat in on either day through BAB@downatthesocial.co.uk.
Underneath BAB will be Honey Trap Club. A Berlin inspired basement dive bar with no airs and graces! Think beer, shots of whisky, dirty cocktails, and table football..
Both sites are planned to open with a selection of activity in early November. More details about launches and offers will be available on social media nearer the time.