Podium Restaurant at the Hilton Manchester Deansgate has launched a chef-mentoring scheme that aims to develop young emerging talent in the kitchen.
The Junior Chef Programme, exclusive to the Manchester Deansgate hotel, carefully selects youngsters who show promise and enthusiasm in the kitchen and develops their culinary techniques under the tutelage of the hotel's top chefs.
Executive Head Chef Stuart Duff said, "The Junior Chef Programme is a great way to mentor young talent and motivate and inspire them to improve their culinary skills." "It's great to nurture home-grown flair and watch as they bring their own style of youthful creativity to Podium's menu." Stuart brings 18 years of experience as executive chef with a background as a development chef, which has been crucial to the evolution of the mentoring process.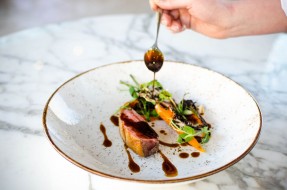 The Hilton Manchester Deansgate sources and creates a monthly seasonal menu using local produce. The Junior Chefs have the opportunity to go on masterclass field trips to local suppliers where they will learn about the origins and preparation of particular foods, and how to transfer these skills back to the kitchen. The dishes will then be showcased on the hotel's impressive new tasting menu.
Bread
Local butter, sea salt, rapeseed
Amuse Bouche
Asparagus mousse, white asparagus, almonds
To begin
Wood pigeon, kohlrabi, beetroot
Sea trout
Shetland black, samphire, radishes, scallop
British beef
Pink Emily, red onion, honeycomb, baby turnips, crispy leeks
Palette cleanser
Sour apple, lime, nuts
Dessert
Strawberries, elderflower