Archive footage, unseen photos and real life community interviews make up a  stunning new film, HULME: the documentary, telling the proper, unheard story of Hulme from those who have lived through two huge regenerations.
Funded by a Heritage Lottery grant, local community arts worker and project founder, Tracie Daly, joined forces with housing provider One Manchester and award winning community media company, REELmcr, to produce HULME: the documentary, which will premiere at The Whitworth Art Gallery later this month.
The film is accompanied by Hulme to Me, co-ordinated by top Manchester poet, Tony Walsh, in which residents recite their own verses of what the area means to them, set to a backdrop of rare photos.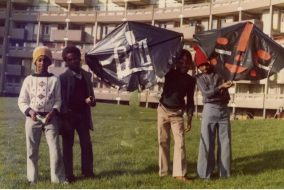 Internationally acclaimed documentary filmmaker, Paul Sapin, worked alongside REELmcr to make HULME: the documentary, which recalls huge struggles to keep the community together in decent housing, told by residents of all ages. It covers the period from the clearances in the 1950s, when people were forced out of their homes, dispersed to estates right across the city or moved into a new, ultimately doomed, social housing experiment; to the tenants' fights in the 1980s for the right to remain, as the second regeneration dawned and the crescents were demolished.
Tracie Daly, project founder said: "This project has been a chance for Hulme people to revisit a time when they had little control over the future of the community they loved and their decaying homes, their way of life, their very foundations ripped up due to a systematic social housing disaster. Finally we get our say!"
The premiere of HULME: the documentary and Hulme to Me for press and private guests  will take place at 2pm on 23rd September at The Whitworth Art Gallery, with a public screening following in October. For more information or to book a place at the public screening please contact REELmcr 07931 234890 or email reelmcr@gmail.com.