For three nights only, foodies can share an evening with Campo Viejo at Casa Campo Viejo; where guests can dive into the vibrant lifestyle of Spain through mouth-watering food, wine and stimulating conversation.
From humble origins in the Rioja in 1964, three entrepreneurs Juan Alcorta, Jose Ortiguela and Jose Bezares were united by a passion to create a wine that would bring families and friends together around a table to share food, wine and laughter – and it is from this belief thatCasa Campo Viejo was born.
Uncorking in Manchester, this special experience will share the contemporary delights of the Rioja region, home to Campo Viejo, at Quay Street's The Loft, from Thursday 21 to Saturday 23 June.
The immersive evening – created in partnership with Eat With, will bring people together around good food and wine – includes a bespoke five-course dinner paired with Campo Viejo wines, an escorted wine blending session and other colourful surprises – all designed to ignite the senses and plunge guests into the rich lifestyle of Campo Viejo.
Renowned Spanish chef Xabi Bonilla from San Sebastian, with a 20-year cooking heritage, will share a contemporary five-course meal, designed to reflect the heartbeat of modern Spain. The menu inspired by Campo Viejo's culinary culture will take Mancunians on a journey of discovery to their Spanish home to enjoy an evening full of laughter, colourful heritage and inspiring conversation.
Campo Viejo Wine Ambassador Maria Huete will accompany guests throughout the evening, taking them on sensory journey to reveal the craftmanship that goes into every bottle of Campo Viejo, makers of the UK's preferred red wine.
Diners will also learn the secrets behind each bottle of Campo Viejo through a guided wine blending session, giving them the opportunity to design and take home their own personalised wine blend to share with others.
Commenting on the affair, Maria Huete says, "We in Spain do things quite differently when it comes to food and drink. Eating and drinking are social activities, paired with rich conversation – we don't grab food and run, we sit, talk, enjoy and break bread together.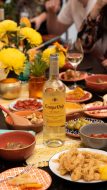 Being generous with each other and taking time to share these experiences is deeply ingrained in our culture. The Casa Campo Viejo event, which honours our home and our roots, will bring this heritage to life in a contemporary and exciting way, and welcome guests to experience our generous and warm way of life.  Our hope is that after these evenings, guests will walk away inspired to live the Campo Viejo way – a life uncorked."
The Loft Venue Manager, Victoria Hole said: "We are transforming The Loft into a slice of modern Spain featuring not only our favourite Spanish wines but also some very modern and unique expressions of some beloved local dishes.
Guests will experience first-hand how versatile and expressive all our wines are and be given an insight into the passion and creativity that goes into every single bottle of Campo Viejo, no matter the varietal. We look forward to welcoming everyone to our casa."
Manchester locals are invited to join the Casa Campo Viejo experience from Thursday 21 June until Saturday 23 June. Tickets can be purchased online at EatWith: eatwith.com/campoviejo 
Further information can be found at Campo Viejo website and Facebook page.
#CasaCampoViejo