Situated on the doorstep of some of Manchester's most iconic football destinations, Cafe Football is serving up a great selection of its a la carte menu, with a touch of Christmas cheer for bookings small and large.
First opened in by Manchester United legends Gary Neville and Ryan Giggs in 2013, Cafe Football now has two sites in Manchester, feeding the passion for food and football inside Hotel Football Old Trafford and the National Football Museum. Its Christmas menu is an extension of its regular offering, marrying fan favourites with festive fare.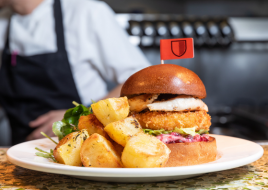 What's The Menu?
Food is available throughout all of November and December, the three-course meal caters to a range of taste buds and can be adapted for various dietary needs.
To begin, guests will enjoy a Colston Basset Stilton pear and walnut salad – and depending on preferences – can opt for the turkey burger with cranberry and thyme mayonnaise, cauliflower cheese patty and roast potato chips, or the 'We Can Vegan Pizza', topped with roasted butternut squash, red onion, sweetcorn, jalapenos, barbecued tomato sauce, oregano and vegan cheese.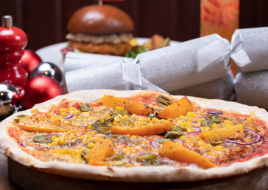 To end, there is indulgent sticky toffee pudding straight from the cafe's sweetshop, with brandy sauce and salted caramel ice cream.
To Drink …
Taking inspiration straight from the beautiful game is the 'warm-up punch'; an infusion of raspberry liqueur, tea and whiskey, served in an aptly shaped football glass goblet. Guests can also opt for the 'Pitch Perfect', bringing together gin, lime juice, sugar syrup, mint and cucumber, finished off with a Christmas candy cane.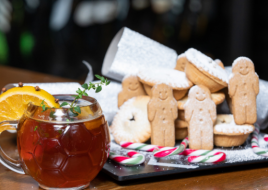 Private Dining and Events
With an open-plan space, there's plenty of room for parties, groups and large events. You can rent out the restaurant privately, with your own theme and tailored to your guest's needs. Be assured that no idea is too big, the team are happy to help and they'll make sure your experience at Café Football is one to remember!
Atmosphere
Known for being a fan-favourite for live sport viewing, the restaurant will be screening a variety of football fixtures over the Christmas period, including the Premier League and Champions League. With multiple plasma screens throughout the restaurant, guests will always have a front-row view of the action.
Bookers will also receive complimentary Christmas goodies as part of their order, including crackers and 'game' cards for charades and quizzes.
Reservations and Opening Times
Open daily from 12:00pm 'til late
Phone:
Cafe Football Old Trafford: 0161 751 0430
Cafe Football National Football Museum: 0161 241 0501
Email: christmas@cafe-football.com
Address:
Cafe Football Old Trafford: 99 Sir Matt Busby Way, Manchester, M16 0SZ
Cafe Football National Football Museum: Todd Street, Manchester, M4 3BG