For The Little Painting Challenge the public were asked to create their own masterpiece on a postcard and entries were received from all corners of the country, across all ages and experience levels, encompassing a wide range of techniques and subject matter.
Sinead Rocks, Head of BBC Learning said: "The response to the challenge has been phenomenal and has completely exceeded our expectations. The quality of the entries shows there is a wealth of creativity right across the UK."
Out of the 29,000 postcards submitted, three overall winners were chosen from the different categories: over 16 beginners; over 16 experienced; and 7 to 15 year olds. In addition, one thousand of the entrants will have their work displayed at The Whitworth, Manchester's Gallery in the Park, in a special exhibition that opens on 1st May.
The judging panel, which included esteemed author-illustrator of the internationally bestselling How to Train Your Dragon series Cressida Cowell, were impressed by the scope of artistic styles and breath of imagination particularly in the 7- 15 year olds category where there was a great willingness to tell a story.
The three winners of The Little Painting Challenge are Seven to 15 years old: Amelia Johnson from Kent
The painting is a self-portrait of Amelia using techniques she'd seen on The Big Painting Challenge.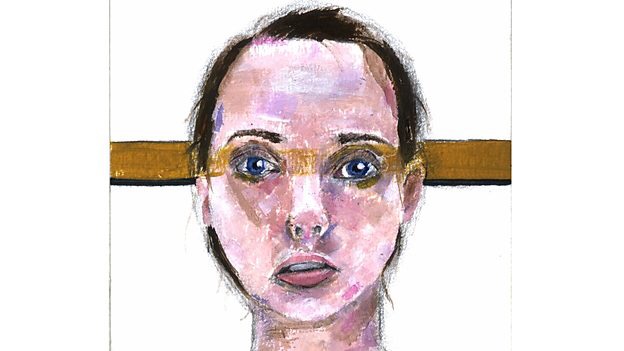 She saw one of the artists on the programme using a flat brush and thought she'd like to try using a brush like that herself.
Cressida Cowell says: "I find the painting very haunting. It is so simply and graphically done… I feel emotionally drawn to it. It is a very strong and powerful picture.
Winner Over 16 Beginner: Charlotte Wood from Matlock
The picture was inspired by people that Charlotte saw on a train journey. She liked the way they mirrored each other and thought the composition worked really well. She did a sketch on the train and then worked on the piece when she got home.
Cressida Cowell says: "There's a story beyond the painting…I like the way the couple appear so stationary compared to the movement of the train."
Over 16 Experienced: Tim Matthews, Warrington
Tim couldn't quite believe that he had won. He is a full time dad and the painting is of his four month-old son Nathaniel, he paints as a hobby and doesn't usually do portraits.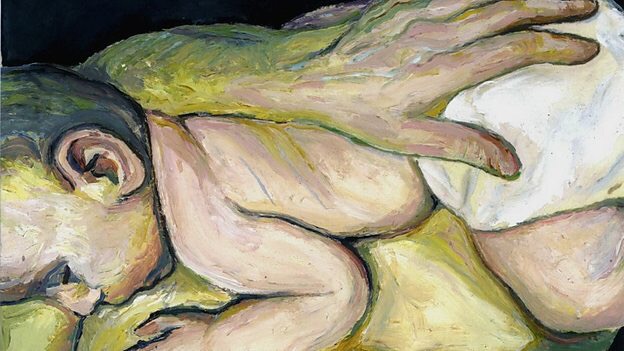 Cressida Cowell says: "There's a feeling of intimacy between the two. It could have been a sentimental painting but it is not – the strong and confident brush strokes prevent it from being sentimental. I like the idea that the hand is protecting the baby from the dark cold side of the picture."