A new exhibition opening at Castlefield Gallery explores the potential that the digital world has for giving art works a second life
Much of our contemporary experiences are increasingly mediated by the Internet and screen-based technologies, overwhelming us with images and information whilst distancing us from the direct experience of objects and things. With many artworks being produced that are not intended to survive beyond their first exhibition, the digital world offers them a second life in 'perfect' exhibition documentation, which can be shared, commented on, liked, loved, replayed, upvoted, regrammed and re-seen indefinitely – or for as long as they remain of interest – despite the things themselves being long gone.
In places the artists …in Dark Times indulge the potential of cheap, disposable, domestic and industrial materials to express their tactile qualities. They perhaps speak to the fleeting nature of human life in these particularly precarious times, when all things seem caught in a flow, where nothing feels solid, certain or safe.
In contrast to the works which focus in on their inherent materiality, other works … in Dark Times seem to be bursting at the seams with content, overflowing with surplus information and incessant references to history, tradition, identity, high art and pop culture. It is in the way these works are able to express a physical incapacity to contain content, a reluctance to present singular succinct narratives, which makes them indicative of our noisy, liquid and accelerated times.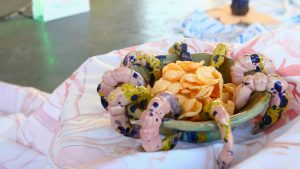 James Ackerley's Studio Objects (2016 -) are small-scale totems of simple, logical shapes that juxtapose materials like budget Brâncusi's. Replacing the modernist master's carved wood, marble and cast bronze with cardboard, timbre and MDF, accurately cut, chopped and temporarily slotted together. Charlie Godet Thomas's Endpaper series (2014 -) features deftly controlled swirls of pigment solidified in rubber, like refrozen ice cream or the patterns found in metamorphic rock formed from exposure to high temperatures and pressures over long periods of time.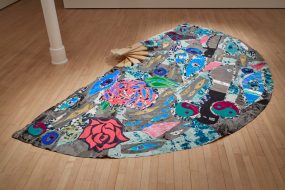 Rebecca Halliwell Sutton's mixed and buffed concrete is also a short cut to the qualities of more precious marble and stone. Like the coloured marble that resembles chopped meat and flesh, often used in the interior of churches that have stood for centuries, her collapsing concert columns contain naturally occurring streaks, fissures and mottling. Along with her sagging, slumping fabric bags printed with pixelated skin tones, reds and purples, Sutton's work functions like that church architecture, both seductive and repulsive, succulent with the horrors of the body, confronting viewers and worshipers with an experience of their own human frailty and finitude against the cold hard stone. Following the philosopher Julia Kristeva, Sutton sees herself in sync with women across generations, understanding her work as interwoven with theirs, rather than restrained by sequential time. Zadie Xa is also in dialogue with more matriarchal traditions, such as Korean Mudang, where the shamanic role is largely performed by women. Originally from Vancouver, Canada, now living and working in London, Xa is interested in her relationship with the Korean diaspora, producing costumes, garments, wall hangings, video works and performances. She explores desire, identity and personal fantasy, mixing inspiration from Talchum (Korean, masked drama), American street fashion, hip-hop and a kind of cosmic digital spirituality.
Bex Ilsley is also interested in the performance of the self, particularly in the digital realm. She combines a variety of fabricated and appropriated objects, props and locations to construct surreal, sci-fi portraits and video works; primarily disseminated via social media and her website. Distributing images, particularly of women online, provokes questions around the ethics and intentions involved. Ilsley acknowledges this tension but ultimately enjoys the autonomy of creating her own self-image on these digital platforms, seeing the potential for them to be more or less honest, artificial or authentic; they may also travel further and live on longer than Ilsley herself. Ilsley's amorphous, glittery, neon and candy coloured Blobs (2014-) are quintessential three dimensional things, flattened into digital images to be sold as products themselves or collaged together for t-shirt, wallpaper or phone cover prints, reaching an international community of fans including Miley Cyrus via Twitter and Instagram.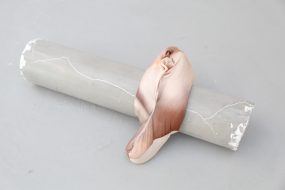 As a child of the 1990s Linsdey Mendick's aesthetic sensibilities were forged in the decade that taste forgot. Her work presents a gloriously camp dreamscape of pattern and colour, with imagery pulled from culture high and low, from Botticelli to Liberace from the Gardens of Versailles to Las Vegas via The Big Breakfast. Everyday domestic objects and foodstuffs are elevated to a decadent and opulent platform. Into this Mendick weaves her own personal narratives, memories and relationships; including her mother's seamstress skills. Though there is a nod to the excesses of bad taste and hollow consumerism, Mendick nonetheless displays a particular sense of grace in her dance through our overflowing histories. A resplendent backstroke in a stream of perfect Instagram'd meals, daily celebrity updates and 24-hour global news.
Exhibition Dates: 24 February – 15 April 2017*
*closed Good Friday and Easter Sunday
Venue: Castlefield Gallery, 2 Hewitt Street, Manchester, M15 4GB
(behind Deansgate train station)