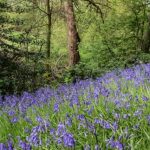 Hancock's Bank near Altrincham, and Coroners Wood near Partington are just two of ancient woods under threat due to the construction of HS2 according to the Woodland Trust.
The organisation says eleven woods are threatened with direct loss and a further 13 are close enough to be threatened by damaging secondary effects including noise, dust and lighting.
Ancient woodland is a descriptive term used for woods that share centuries of continuity on largely undisturbed natural soils.
Each ancient wood says the trust, is a unique product of its location, geology, soils, climate and history – conditions that cannot be re-created elsewhere. They are places of inordinate beauty, reservoirs of archaeology and history, and a source of inspiration for local culture and folklore.
Beccy Speight, Woodland Trust Chief Executive, said:
"Any loss or damage to ancient woodland is a disaster for the natural environment, particularly when you consider how little we have left. Just 2% of the UK's land area is made up of these precious and irreplaceable habitats, so for large infrastructure projects like HS2 to be riding roughshod over them, rather than setting an example to avoid them, is totally unacceptable.
"With the trail of destruction HS2 Ltd will cause to ancient woodland, it will never be able to call this project 'green' – so far, it's been an absolute disgrace.
"HS2 Ltd will say it's planting millions of trees along the route – that's all well and good, but no amount of new trees can ever recreate ancient woodland."