Police have released CCTV after a van purposely rammed into a police car at speed in Salford in the early hours of yesterday morning.
Officers in an unmarked police car were patrolling Salford when they came across a white Ford Transit van with false number plates around 3.15am.
The patrol car gestured for the van to pull over but the van began speeding through the streets and was pursued by police.The van driver slammed on the brakes a number of times in the hope that the patrol car would crash into the back of it and stop the pursuit.
The driver then quickly turned the van around and drove at speed directly at the patrol car before ramming into it on Duchy Street in Irwell, Salford and driving off.The two officers in the patrol car have received hospital treatment for their injuries and will be unable to continue their usual duties for some time due to this incident.
A 21 year-old woman, who is believed to have been the passenger in the van, has been arrested on suspicion of theft of a motor vehicle, however police are still searching for the driver of the van.A CCTV image of a man believed to be the driver of the van has also been released by police.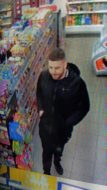 Sergeant Danny Kabal of GMP's Specialist Operations Team said: "The driver of the white Transit van intended on doing some serious damage and didn't care if he was putting innocent lives at risk.
"The van was used as a weapon against police officers, who are only there to keep the streets of Greater Manchester safe.
"Thankfully, the officers involved will recover from their injuries, and no members of the public were caught up in the incident but we could have been dealing with an entirely different situation.
"We have arrested a woman but we are still searching for the man who was the driver of the vehicle.
"We are appealing for anyone who may have any information about who this man is, to get in touch with us.
"Anyone who thinks it is okay to use a van as a weapon against anyone needs removing from the streets and bringing to justice and we won't stop until we find this man."