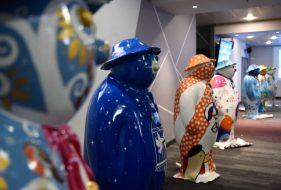 Raymond Briggs' heart-warming picture book The Snowman™has landed at MediaCityUK, Salford, this Christmas. The world's first public art trail based on the nation's favourite Christmas story sees twelve giant Snowmen, each decorated with its own unique design, fly onto display from 22 November  to 6 January.
Themed around the song The Twelve Days of Christmas, each sculpture is designed and decorated by one of twelve professional artists, all of whom painted a Bee for this year's Bee in the City event.
Organised by Wild in Art in collaboration with Penguin Ventures, part of publisher Penguin Random House UK, the Walking with The Snowman sculptures will be exhibited across MediaCityUK and The Quays for six weeks.
Providing free, family-friendly entertainment for residents and visitors to enjoy during the festive period, the art trail forms part of a programme of fun events in the area in the run up to Christmas.
From craft workshops, makers markets, a light festival, and a Santa's grotto, there's something for everyone to enjoy alongside the art trail. 
A free Walking with The Snowman trail map which includes games and puzzles is available to pick up from the Lowry Outlet, The Lowry and MediaCityUK's Open Centre, and a copy can be downloaded and printed at home from the website at walkingwiththesnowman.co.uk/art-trail.
Trail goers and fans of The Snowman from across the globe can bid online from 1 December to buy a large Snowman sculpture as part of this year's BBC Children in Need fundraising drive.
The online auction opens soon and bids can be placed atwalkingwiththesnowman.co.uk/auction.
From intricate traditional designs, to bold and cheeky graphic styles, there is an array of artwork by established and emerging artists to discover.
Jodie Silverman has created the first sculpture on the trail; the iconic Partridge in a Pear Tree. Tattoo artist Megan Heather Evans has used a simple colour palette to create a striking image which shows the love and friendship of Two Turtle Doves.
Graffiti-inspired artist Lei-Mai LeMaow has painted Three French Hens in her signature tongue-in-cheek style. Manchester-based graphic designer and printmaker Kim Hubball has a contemporary take on Scandinavian folk art illustration for design Four Calling Birds.
Czech-born airbrush artist Adam Pekr used the idea of five Salford rings in his design for Five Gold Rings. Jenny Leonard's tribute to Six Geese a-Laying is a cheeky play on words complete with geese relaxing on inflatable lilos enjoying snowball cocktails.
Salford-born Laura-Kate Chapman has created a repeating, stylised pattern for Seven Swans a-Swimming. The Snowman himself has been transformed into a swan – he has an orange nose like a swan's beak and stands in a pool of icy blue water.
Mural artist Donna Newman has responded in a fun and quirky way to the verse Eight Maids a-Milking, by transforming The Snowman into a giant cow.
Lizzie Rose Chapman from Salford, sister of Laura-Kate, has covered her sculpture in a beautiful Christmas landscape for Nine Ladies Dancing.
Ten fictional members of the House of Lords in their red and white peerage robes leap across the sculpture Ten Lords a-Leaping painted by Manchester illustrator and mural painter Hammo.
Inspired by themes of cultural diversity, Lois Cordelia's design for Eleven Pipers Piping celebrates pipe instruments from all over the world. Animator and illustrator Jessica Perrin has taken inspiration from the traditional uniforms of military marching bands for her design Twelve Drummers Drumming.
Local children and young people from more than 40 schools have taken part in the event by decorating their own smaller 1-metre-tall Snowman sculptures as part of an inspiring Learning Programme supported by Salford City Council.
After thousands of people have seen thecreativity and talent of our future generations on display, the Little Snowmen are returned to the schools that created them as a lasting legacy.
Ben Reed, Head of Creative Development at Wild in Art, says:
"With themes of friendship, imagination and adventure, The Snowman is the ultimate Christmas story to explore with family and friends. And with twelve sculptures all themed on The Twelve Days of Christmas, it really doesn't get any more Christmassy!
"As well as being an enjoyable art trail, Walking with The Snowman has a very important job to do. The twelve large Snowmen are up for auction to raise money for BBC Children in Need, which makes a real difference to the lives of children all across the UK."