Following the success of its existing aparthotel on Princess Street in Manchester, stylish
aparthotel chain, Roomzzz, has opened its doors in the Manchester Corn Exchange.
The new development brings 114 luxury apartments to the Roomzzz Manchester Corn
Exchange, spacious suites that offer a personal touch for adventure, business and
celebration.
Unique to Roomzzz, each apartment has been individually designed to provide
a comfortable, well planned living area and features a fully equipped kitchen, ideal for longer stays and home chefs alike.
The opening marks the completion of a three-year renovation project for the
Corn Exchange, as the aparthotel joins an impressive offering of 14 restaurants which have
moved into the iconic building over the last few years, establishing it as one of the city's most sought-after dining and city break destinations.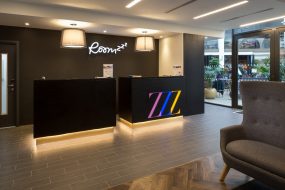 Naveen Ahmed, CEO of Roomzzz, commented: "Building on the brand's success in the
thriving city of Manchester, Roomzzz is delighted to be launching its second Manchester
aparthotel in the iconic Corn Exchange – the excellent location and vibrant food and drink
offering make it the perfect venue for guests looking to enjoy the variety of restaurants,
shops and entertainment the city has to offer, as well as our welcoming and exceptional
service.
"Thanks to its central location and great transport links, it caters for all guests, from city
explorers to corporate travellers, who can expect the home comforts and customer service
they're used to from the Roomzzz brand, allowing them to feel right at home in the heart of
Manchester. We look forward to welcoming guests."
The new Roomzzz aparthotel is characterised by its beautiful interior, with quality
furnishings, high ceilings, unique finishing touches and comfort in all shapes and sizes. For
this project, Roomzzz has partnered with artist, Katie Edwards, and commissioned one-of- a kind artwork pieces to complement the outstanding design of the interiors. The pieces
highlight, not only what the aparthotel has to offer, but also draw from the city's vibrant
culture and history, inspired by and featuring prominent landmarks.
The opening marks the eighth aparthotel in the Roomzzz portfolio, which has grown to
include aparthotels across the North of England in Leeds, Chester, Nottingham, Manchester
and Newcastle. Roomzzz has ambitious growth plans with further developments in the
pipeline for Edinburgh, Harrogate, Liverpool and York, as well as an extension to the existing Newcastle property and the brand's first aparthotel in the South of England opening in Stratford this summer.
To book,visit http://www.roomzzz.com/manchester-corn- exchange/ or call 020 3504 5555.