An early morning Mobike ride through Salford, a captivating night of art, light, new music, live performances, poetry, ghost stories, and cocktails at St Philips Church and poetry reading and storytelling from Julie Hesmondhalgh .
Yes, Simon Buckley is returning for another year with his arts festival, this time in the Chapel Street and River Irwell areas of Manchester. The Not Quite Festival is running from Thursday 17 to Sunday 20 May and features over 20 events combining art, music, guided tours, architecture and debate.
Simon's inspiration for the weekend is drawn from his year-round Not Quite Light project, with striking city imagery taken at dawn, indeed,when it's not quite light. The festival in 2016 explored themes of heritage and restoration in central Manchester and won the accolade of Best Exhibition in the CityLife Awards – cultural recognition for a unique and thought-provoking programme of events.
This May's 2018 Festival weekend is to be held Salford, and seeks to inspire people to observe the city, so often in Manchester's shadow, from a different perspective. Based on this current project, there will be a photography exhibition entitled From Trinity to the Crescent. Showcased at the Lowry Hotel, it will run for two months and begins on Thursday 17 May, which is also when the Festival kicks off.
Simon Buckley comments: "It has been a joy putting this programme together – the subjects in question are so interesting and important to the future of Salford. Individually and collaboratively, I have created events at dawn, during the day, and at dusk, to explore the city in a unique way.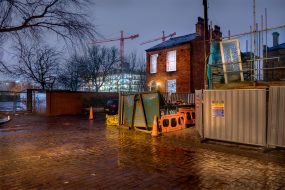 I'm thrilled to be back with a 2018 Festival. It's a new festival for Salford, with the aim being to repeat in 2019 and 2020.  It would be fantastic to see as many people there as possible to meet, socialise, discuss and enjoy the environs of a special place through the arts and these events."
Among the highlights, there is poetry reading and storytelling from local actor and activist Julie Hesmondhalgh alongside live performances from classical musicians playing the work of Beethoven, Britten and Macmillan on the theme of dawn and dusk.
There will also be a special performance of Amid The Irk Over The Irk- combining trad Irish and Jewish Klezmer music, featuring well known musician Mike McGoldrick.
There is a guided walk with a writer, sketcher, photographer and psycho-geographer to observe the city in early morning stillness and a Mobike sunrise,an early morning bike ride through the carless streets of Salford seeing a different perspective before the city wakes up.
And Nightlights, set against the stunning backdrop of the iconic Georgian St. Phillips Church.
The night will include light installations created by artists bringing their own projectors and light sources. Live music will be performed by rising star Carmel Smickersgill and the band Room 1985.
There will be a first performance of a commissioned sound work by Xavier Velastin, based on the sounds of the River Irwell and poetry by space poet Dom Conlan and Emily Oldfield. In the crypt, cult  horror actor Lauren Ashley Carter will read ghost stories.
For more information and see the programme in full, visit notquitelight/NQL2018.
.