The debate surrounding HS2 and HS3 continues unabated.About Manchester gives space today for the views of MichaelBell who proposes a different alternative Ringby, the new centre of Britain.
The right thing to do in planning a national high-speed rail network is to build it between the two furthest apart big cities of the country: Glasgow and London. And what should be route between them? Look at this photo of Britain from space by night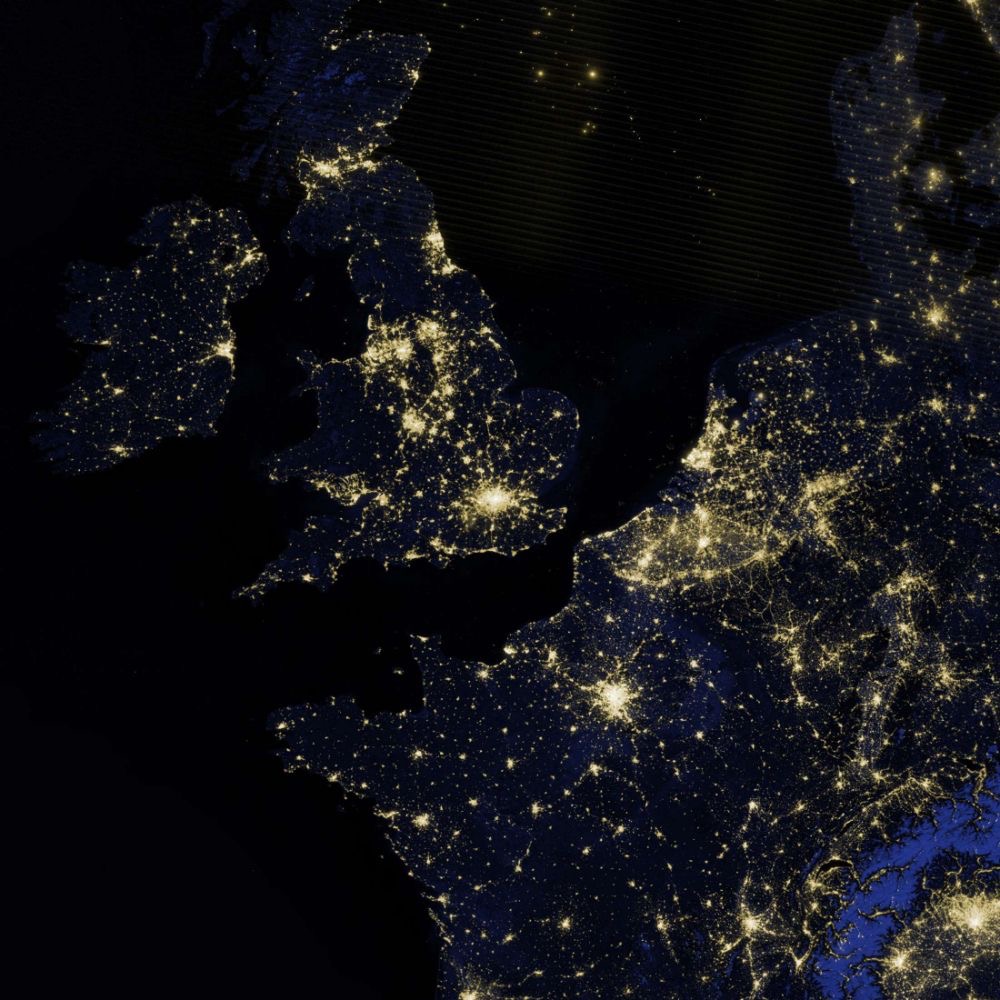 We see Glasgow and the central belt of Scotland, and we also see the north-east, and in the South-East we see London. In the middle, we see a ring of lights around the southern Pennines. This ring is made of Liverpool, Manchester, Leeds, Sheffield, Nottingham, Leicester, Coventry, Birmingham and Stoke. The route to go through this lot is shaped þ. This is the letter, called "thorn", which was used in Old English to write the sounds which we now write "th". This route reaches all the main centres of this country east of the Severn.
The þ-shaped route does not go to 3 terminuses as HS2's route does. It forks east and west at Rugby to form a ring round the southern Pennines. This has effects for the London station. HS2 say they could run 18 tph (Trains Per Hour) along the London – Rugby leg, though they don't plan to use that capacity yet. HS2 haven't yet finalised their plans for their London station, one of their problems is that even before creating a route to Liverpool they plan to have separate waiting areas for the branches, each must hold 20 minutes' worth of passengers. That takes up a lot of space.
Instead trains from London on the þ-shaped route fork alternately east and west at Rugby, so giving a service every 6 minutes to Birmingham. The trains will not terminate at Birmingham, they will go on to Liverpool and Manchester, connecting Birmingham as well northwards as southwards. The þ-shaped route does not go to Old Oak Common, that is far too near the terminus for high-speed trains, instead it goes on viaduct over the M1 to a new station at "Waterdale" where the M1 and M25 meet. This is a far more useful station than Old Oak Common.
The þ-shaped route then runs as a 3rd pair of rails alongside WCML to Rugby, where it forks. After this fork, the traffic is halved, allowing trains to run shinkansen– style at an average headway of 5 minutes. This allows Liverpool circular services to be fitted in.
The west fork runs through Birmingham to an interchange with New St. station. It will have to do this either overhead or underground. Underground is difficult; many of Birmingham's buildings have foundations in the way. Overhead will be cheaper and quicker to build, but more controversial. Think of Tyne Bridge, it is a very raw lump of steel in what was a classic river front, but we love it now, it has become a symbol of the city. Likewise, think of the Angel of the North, the Wuppertal Schwebebahn, the Eifel tower and many others.
The route runs on through Stoke, a cutting in the side of Harecastle hill is no more than has been done to preserve the skyline in the home counties.
The route goes to the west end of Manchester Airport (HS2's route passes the east side of the airport). The Manchester Metrolink or the Railway (or maybe both!) are extended west a new station on the þ-shaped route and to Mobberley and to yet more park and ride.
This not only provides interchange between the þ-shaped route and the airport, it also brings in passengers from North Wales to the airport and to Manchester, it also brings North Wales traffic to the þ-shaped route, replacing the much-hyped "need" for North Wales traffic to "catch the London train" at Crewe.
The þ-shaped route forks near Lymm, the west fork joining the Manchester – Liverpool route just south of St Helens, and the east fork makes a wide curve round Irlam to enter Victoria station from the west. The connection to Liverpool is more than simply a connection to a major city; it allows a frequent Liverpool – Liverpool circular to run right round the ring, allowing north- south trains to run without interfering with a ring circular. This wide curve is necessary; trains doing this speed need curves of radius no less than 7 kms. Victoria is a through station, (unlike HS2's planned terminus at Piccadilly), trains will go every 5 minutes in both directions.
So the trains must go over the Pennines to Leeds. Tunnels are expensive and take time to build, the obvious route is beside the M62. It would need a spectacular viaduct over the village of Newhey, the gradient is 1:70, a very average gradient for railways and easily within the powers of high-speed trains. And at Leeds the þ-shaped route forks again, south to Sheffield, Nottingham, etc., and north to Middlesbrough, Newcastle, Edinburgh and Glasgow.
This gives Manchester quick connection not only to London, but to all the cities round the ring, Liverpool, Stoke, Birmingham, and the other way round, Leeds, Sheffield, Nottingham etc., none of them more than 30 minutes away.
This is very business-friendly, you could decide in the morning that you need to see somebody else on the ring, go after lunch, do the business and get back by finishing time. It would effectively be a "single city" with all the opportunities that offers. Germany does not have one dominant city; it has five; Berlin, Hamburg, Düsseldorf, Frankfurt, Munich, it has no rich and poor areas like our north and south; all are served by their regional big city. German has big companies, but it also that layer of middle-sized companies called "Mittelstand", the mainstay of German industry. Could that crop grow in Ringby?
You could go to the Crucible or Symphony Hall and be back within the patience of the childminder. Yet from Manchester and all the others you would be near to open country, unlike otherMetropolises.
A new kind of living! I would call it "Ringby". It would be the jewel of Britain. It would be like Amsterdam, Britain's biggest city, but not its capital it.
And that shows up a grumbling conflict. London Rivalry! Ringby has 11 million people and London has 8 million and aims to increase its population to 10 million in the near future and they won't all be foreigners. The idea of Ringby is already under attack. George Osborne imagined "The Northern Powerhouse", Liverpool, Manchester, Leeds, Sheffield, Newcastle.
It is an attempt to defocus Ringby, geographically and culturally, "The Northern Powerhouse", is a most unnatural grouping. It is a Trojan horse. Liverpool, Manchester, Leeds and Sheffield would combine much more naturally with Nottingham, Leicester, Birmingham and Stoke to form Ringby, but would that be too great a rival to London?
So how should Manchester face these challenges and opportunities?
Can we rely on Manchester being "made whole" so that there is a proper structure? And likewise the other towns of the ring?
But what about Ringby as a whole? Should it do a "city deal" to form itself into a bloc? Would Westminster veto it?
I believe that a strong Ringby would do more good for my North-East than London ever can.