Daniel Adamson 1903 steam ship is coming to Salford this weekend for the first time since the 80's following a £3.8Million Heritage Lottery fund .
The ship was originally owned by the owners of The Manchester Ship Canal who used it as their VIP passenger vessel as the ship had beautiful Art Deco interior saloons with a bar, which have now been fully restored.
The ship was launched to the public on April 12th on its maiden voyage from Liverpool to Ellesemere Port.
The Danny will be a new moving visitor and museum attraction which will be static at Albert Dock, Ellesmere Port and Acton Bridge in Cheshire as well as offering cruises and availability for private hire. All the dates for cruises and static days are listed on www.thedanny.co.uk.
Whilst static, The Danny will offer an interactive 'story-experience', bringing alive unique tales through tours which include real-life stories from past boat workers, sights, sounds of the past and our own revealing and surprising storytellers.
The unique ship is a moving piece of history which proudly shows off its art-deco interior and Victorian engineering in a ship which pre-dates the Titanic.
The Historic ship was saved in 2004 when it was bought for £1 by an enthusiast to save it from being scrapped. Supported by a team of volunteers who have re-built the vessel and its engines with the help of Cammell Lairds and funding from The Heritage Lottery Fund.
The ship now offers a wonderful insight into the style of the iconic luxury liners and evokes an interesting sense of nostalgia as many of the current volunteers once worked on her and still to this day are involved in its build and restoration and are pleased to see it stand proud once again on the Mersey waterways.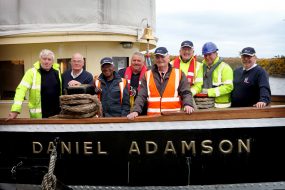 Dan Cross Chairman & founder of the Daniel Adamson Preservation Society said: "Our long-awaited launch is going to be an emotional day for all the volunteers who have tirelessly campaigned and physically worked on restoring The Danny. Sadly, we have lost some of our volunteers along the way and our thoughts will be with them as we finally launch The Danny back on its own steam on the Mersey waterways.
"But her journey won't stop there as she will now become a new tourist attraction for Liverpool, Cheshire and the North West"
"We need to thank the expertise and skills of Cammell Laird's who have proven that its shipbuilding and also restoration is world-class and its craftsmanship can now been seen for hopefully hundreds of years to come on The Danny."