Sale Sharks, the North West's only Premiership Rugby Club, have become the first top flight club to launch their Oddballs branded underwear. The boxers and briefs are designed with the club logo and are available for men and women.
Oddballs, who The Sharks launched the underwear range with, are an underwear company who aim to raise awareness of testicular cancer. The company who are based in Newcastle have grown in popularity since forming in May 2014.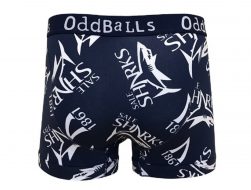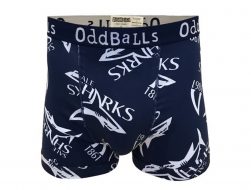 Sale Sharks Commercial Director Mark Cueto MBE said: "Working with Oddballs and The Oddballs Foundation has been brilliant as they are such an important charity with a strong voice."
He continued, "Our players as well as the fans are big supporters of the charity and have been supporting it for some time, so it made total sense to team up with Oddballs."
William Cooper, Oddballs Managing Director, said: "We are over the moon to partner with Sale Sharks, the first Premiership Rugby team with their own design of underwear. We are heavily linked with Rugby Union and to have something official like this will only develop our relationship with the sport and Sale Sharks in particular."
Cooper concluded, "This will also help promote the awareness of testicular cancer within the club and fan base."
The underwear range is priced at £9.99 and is available at the Sale Shark club shop or on the club website here.