A ribbon-cutting ceremony marked the official opening of Radcliffe's newly refurbished and modernised bus station.
Central to the wider regeneration of the town centre and boasting significantly improved facilities, the new bus station also offers a more pleasant and welcoming environment for passengers.
Leaders visited the new facility, which replaces the old station on the opposite side of Dale Street, on Thursday.
Improvements include new paving, planting, stepped seating areas and purpose built shelters and CCTV coverage.
Transport for Greater Manchester (TfGM) and Bury Council have funded and worked in partnership on the project, which aligns with the Radcliffe Town Centre Masterplan and the council's regeneration aspirations for Radcliffe.
Councillor Andrew Fender, Chair of the TfGM Committee, said: "I am thrilled to see bus passengers enjoying the new facility, which provides a more pleasant experience of public transport.
"By bringing better links to jobs, retail, education and leisure both locally and further afield, the new bus station now looks like a suitable gateway to the town centre and revamped Market Hall."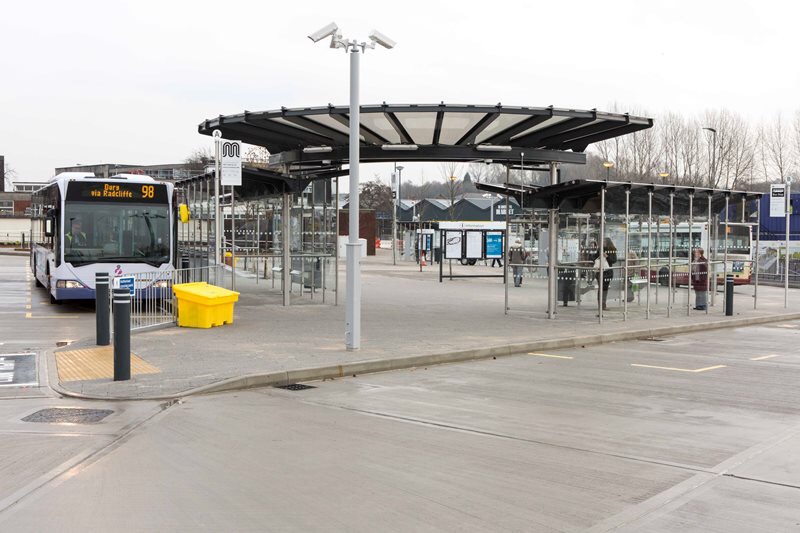 The revamped bus station followed the £1 million refurbishment of the Market Hall and the new leisure centre on Spring Lane. A new retail-led development on the site of the old car park will be the next phase of Radcliffe's regeneration. More details will be announced shortly.
Councillor Mike Connolly, leader of Bury Council, said: "The new bus station provides commuters with a much improved environment and a more pleasant experience when using public transport.
"We promised the people of Radcliffe that they would see real improvements to the town centre and this, combined with all of our other recent investments, is proof that we've kept our promises."
Ivan Lewis, MP for Bury South, said "The new bus station is a key part of our ambitious plan to regenerate Radcliffe and give the community the thriving town centre they deserve. I want to pay tribute to Councillor Andrew Fender and Transport for Greater Manchester together with Bury Council for making this project in Radcliffe a priority in difficult financial times."