The oldest recorded photo of staff at Stepping Hill Hospital has been recreated with some of their modern day counterparts, to celebrate nursing past and present.
The photo, from 1906,  was donated to the hospital two years ago by Brenda Whitnall and her daughter Maureen Wilkinson when it was discovered in Brenda's house. Featured in the centre of the photo was boiler room stoker James Walter Hammond; Brenda's father and Maureen's grandfather.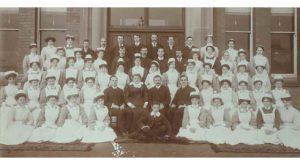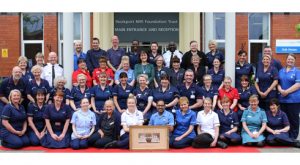 Now the photo has been recreated, in front of the hospital's main entrance, to commemorate International Nurses Day on 12th May 2018, and also celebrate 70 years since the NHS was founded.
Chief Nurse Alison Lynch said, "The uniforms and wards might be different, but nurses still live by the values of care, compassion, competence, communication, courage and commitment. We've called them the '6 Cs' for the last five years, but they've always been there, from 1906 right up to the present day."