The Save Foxdenton Hall Campaign has reached a significant turning point as local community group Chadderton Together receive a £50K grant from Viridor Credits Environmental Company toward the refurbishment of the Pavilion.
This grant money will be match funded by Oldham Council and used to renovate the pavilion. Housing a café, much-needed toilets and a place for local groups to meet, it is envisaged that the pavilion will be brought back to life by the people of Chadderton and those who visit the gem of a park it sits in.
Rev John Simmons Chair of Chadderton Together said, "We are absolutely delighted with this news! Hopefully, we may see the resurrection of the bowling club when the facility is up and running as well". "It has taken a while to achieve but the hard work that has been going on behind the scenes by a group of dedicated people has come to fruition.  We would like to thank consultant Peter Rowlinson who has steered our group, local councillor Colin McLaren who has worked tirelessly on our behalf and to the architects Lloyd Evans and building contractors Pritchard and Lichfield who will be carrying out the work."
Oldham has the most Grade II-listed buildings in Greater Manchester, outside Manchester itself.  Foxdenton Hall is the only Grade II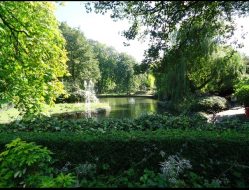 listed building in Chadderton and because of its beauty, its setting and its history a real asset to the community.
Gareth Williams, Operations Manager at Viridor Credits, said: "Congratulations to the people of Chadderton on securing the award through the Landfill Communities Fund. At Viridor Credits, we were delighted to support this important community facility and we look forward to seeing the finished renovation."
There is still much fund raising to be done as our ultimate goal is the restoration of the much loved Grade II* Listed Foxdenton Hall.
Rev John Simmons adds, "There is one final piece of the jigsaw that remains to be found before work can finally begin on the pavilion.  The Viridor Credits grant will meet the costs of all the major work, except the installation of a new kitchen for which we are appealing for help from local business."
The Grade II listed building has fallen into disrepair having been closed to the public for several years due to safety reasons.  Local historians and community groups keen to save this beautiful manor house need to enlist the help of the public through Chadderton Together in order to save Oldham's heritage