Suffragette leader, Emmeline Pankhurst leads the mini march of women that paved the way for future female engineers, scientists, pilots and politicians in a Lego tribute to inspirational women around the world.
The mini suffragette city is in homage to the iconic 1907 women's march, and will launch at Legoland Discovery Centre's 'Mini Land' on 8th March to coincide with International Women's Day.
The creative and playful scene pays tribute to the women, many who held a strong connection to Manchester, that changed the course of history when it came to the perception of girls' roles in society, education and the workplace.
Through purposeful play, Legoland Discovery Centre Manchester are inspiring the next generation of female engineers with the interactive play scene that celebrates world-renowned inquisitive, brave and determined women.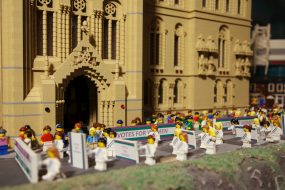 Proportionately perfect, the Mini Suffragette City takes inspiration from Manchester landmarks including Manchester Town Hall, Central Library and Piccadilly Train Station. The mini suffragette city contains over 15,583 bricks, each laid by hand and glued into place by Alex Bidolak Master Model Builder, and sees 40 female Lego minifigure characters take to the streets in a mini march.
"This year for International Women's Day we wanted to create a play scene for young girls, and boys, to show the strength, determination and solidarity of women to represent International Women's Day," said Jenn McDonough, General Manager Manchester Cluster, Merlin Entertainments.
"We hope that our mini women's march invites questions and conversations around gender roles, the centenary of the woman's vote and sparks the re-telling of stories around famous female scientists like Rosalind Franklin, known for her contribution towards uncovering the structure of DNA and Amelia Earhart, the first female to fly solo across the Atlantic."
The leading North West attraction is set to launch an all-new Space Mission feature this Easter, including a Lego mini build of British Chemist, Helen Sharman, who was the first woman to go into space.
The new feature will encourage children explore space, and introduce budding master model builders of the future to the art of construction inspiring the next generation of space engineers through purposeful play with the gender-inclusive toy.  
https://www.visitsealife.com/manchester and https://manchester.legolanddiscoverycentre.co.uk
Tickets start from £11.50