Christmas cards dating one hundred and twenty years will be on show this Saturday at Manchester's Central Library.
The cards come from a collection by Manchester Charity Disabled Living and date back to the charity's early start in 1897 when it began life as the "Band of Kindness and Children's Help Society" to encourage people to be kind to donkeys, and in turn their fellow citizens.
It has been reincarnated several times along the way – from The Crippled Children's Help Society and The Cripples Help Society; changing in 1985 to the Disabled Living Services and finally in 1992 to Disabled Living as it is know today.
The cards were designed by local artists in the city and region to be sent out on behalf of the charity (when it was known as The Crippled Children's Help Society ).
They illustrate one of the many acts of ground-level kindness and activism it was engaged in to help brighten the lives of disabled children in the region.
These cards were sent out in xmas hampers that each housebound disabled child received. Each card is gorgeously designed and very of its time, charting the way through a good chunk of the first half of the 20th century. There's hints of classic Arts and Crafts style borders, flowing into Art Nouveau lines all the way through to the vintage bright bold colours of Santas gone by.
The first Christmas card that we know to have been designed by a recognised artist is the gorgeous 1907 print of Santa. Garth Jones (1872-1955) was a Mancunian illustrator and art teacher, notable for his designs in fairy tale and folklore volumes. He studied at what would become the Royal College of Art in London and later in Paris.
Edward Gosling was an artist who designed a number of the charity's Christmas cards back in 1910 when he was just 15 and again in 1920. Not many artists are fully credited on the cards but the lovely dedication to Gosling is fascinating. On his gorgeous winter bird and holly design, it reads,
Drawn by a crippled boy, Edward Gosling, aged 15 (of Manchester), boy without arms, drawn with his toes.
It is likely that, due to his age, he was a member of the society or otherwise accessed its services. Disabled Living, or the Crippled Children's Help Society as we were known then, not only supported children and young people living with disability but encouraged crafts, arts and skills in its service users.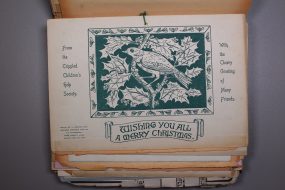 disabled livingThese xmas cards are in a folio – crumbling hard back volume which is one of few archive items that the charity still has – as a fire in 2009 sadly resulted in the destruction of much of its history.
The charity is currently involved in a Donkeys to Innovators archive renewal project gathering as much archive material as possible from past users and employees and much of this material will go into an exhibition of the same name in February at the Charity''s HQ in North Manchester.
The last known Christmas card sent out by the charity was in 1939 but as part of its 120 years celebrations this year, D L launched a xmas card competition ( its first) which invited young children with disabilities to design an e card that would be send out by the charity this year.
The winner is a 14 year old girl with autism from Wigan…so I can also send you her winning design if that is of interest.
The cards will be on display as part of Central Library's Christmas Extravaganza at Central Library via a Slideshow and a green screen where people can have pictures taken.