In praise of Independent Bookshop Week  taking place 16-23 June, an annual celebration of independent bookshops around the UK that highlights the important part that 'indies' play in their communities, their creativity and the excellent, personal service they provide for customers, About Manchester takes a look at three examples from around our region.
Urmston Bookshop, 72 Flixton Rd, Urmston, Manchester M41 5AB
Urmston Bookshop is situated on Flixton Rd, Urmston. It is nestled amongst other lovely independent shops. We stock a range of titles for both adults and children. We can also order any book that is in print, many with a next day delivery service.
We have three thriving book clubs and are always looking for new members. We also have Talking Tales; a book club for children aged 7 to 10 yrs.
We have a meeting room which is regularly used for author events, children's storytime, book clubs and community events. It also holds our stock of second-hand books.
We have been rated as one of the top 50 independent bookshops in the country and were recently voted in the top 5 in Manchester.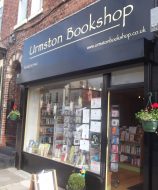 Independent bookshops are vital for communities. They offer a calm, real space for like-minded people to come together. A place for parents to bring children and show them real books and not just a photo on a computer. They work closely with schools, taking authors in to visit and enriching the children's learning experience.
The online retailers offer cheap and convenient; but what they don't offer is the knowledge and speciality. Where a bookseller can match a reader with his perfect book is not for sale anywhere else.
Independent Bookshop Week (IBW) is a fantastic way of highlighting the importance of independent bookshops. With the help of the Booksellers' Association and social media it provides a wonderful spotlight of what indies offer their communities.
At Urmston Bookshop we are collaborating with the local library for Wordfest, which is a festival bringing in a variety of authors over the week. We also have activity sheets for young children and invited a local school in to the shop to choose their favourite books.
Our top summer reads:
The Heart's Invisible Furies

by John Boyne. Such a compelling read, at once hilariously funny yet desperately sad.

Little Fires Everywhere

by Celeste Ng. A powerful book about motherhood, identity and teenage angst.

The Craftsman

by Sharon Bolton. A dark thriller based on the legends of the Pendle witches. A stunning book.
Chorlton Bookshop, 506 Wilbraham Rd, Manchester M21 9AW
We're a small, independent, family-owned bookshop in the south Manchester suburb of Manchester. We've just reached our 35th anniversary, so now we have regular customers who first came in with their parents – in some cases, their grandparents!  
It's all about variety and choice. Books are an art form, an outpouring of creativity, and that should never be bland or homogenised. At best, independent bookshops can have character and atmosphere, they can be distinctive and go off the beaten track – just like books can. And it will always be important to have physical bricks-and-mortar shops to go into, where you can browse and find books you never expected to find. It's a social thing, too. We like to think we're a part of our neighbourhood, somewhere that people go to meet and chat and discover and share.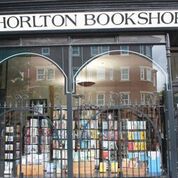 The more that independent bookshops can do to draw attention to themselves and remind people that we're here, the better! During IBW there's a sense that shops, authors and publishers are talking to each other even more than usual, which is great. As we're such a small shop, we're not really able to host events on site, but occasionally we team up with other venues to do so.  We do have a special IBW shop window display though, tying in with the 50th anniversary of The Tiger Who Came to Tea and Judith Kerr's 95th birthday. Our cuddly tiger has drawn plenty of admiring comments.
Currently on our Staff Recommendations' spinner:
Celeste Ng's Little Fires Everywhere, Homegoing by Yaa Gyasi, Brett Anderson's memoir Coal Black Mornings, a poetry collection by Sophie McKeand called Rebel Sun and a couple of fine books by local authors: Catherine Burns' The Visitors and Nicola Mostyn's The Gods of Love. Plus, we've just read The Freewheeling John Dowie, an eccentric and entertaining travel book-cum-memoir by one of the forgotten progenitors of alternative comedy.
Simply Books, 228 Moss Ln, Bramhall, Stockport SK7 1BD
We opened the shop in 2002 as an entirely new venture – so built it up from scratch (having never previously been involved in the book trade). We have won various industry awards over the years – including Children's Independent Bookseller of the Year and Independent Bookseller of the year – as well being Stockport Retailer of the Year and Manchester Evening News Retailer of the Year. We have a café, sell cards and gifts – and for the last few years we've been running a Community Cinema in the local church hall with screenings once a month. We also host no less than 13 book clubs (for children aged 9/10 through to adults) and a couple of monthly Language Cafes – one for Spanish and one for Italian. Each year we organise a Bookshop Picnic – a lovely day out for our customers.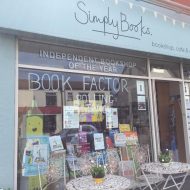 Independent Bookshops are important because they are essential to the lifeblood of a community – an irreplaceable cultural asset. IBW is important to us because it provides a focus and acts as a catalyst for all the activities we have developed. Although we don't have any specific events on this week – apart from a couple of our regular groups ( one of the adult book clubs and our Knit and Natter group) – we have Emma Healey (Elizabeth Is Missing) with us next Tuesday and on Wednesday we are one of the shops chosen to host a couple of 50th Anniversary Tea Parties for the Tiger Who Came To Tea (complete with Tiger!) both of which are sold out. On Friday we'll be hosting our monthly Simply Cinema screening with 'Finding Your Feet'. So an averagely busy week!
Summer recommendations?? Two of our favourites …Beautiful Animals by Lawrence Osbourne – a complex, gripping literary thriller (shades of Graham Greene) and Bodies of Light by Sarah Moss (our favourite author this year) – a wonderful novel about the first women to train as medics, set against the backdrop of Victorian Manchester and the pre-raphaelite movement.