Contemporary artist, Romuald Hazoumè will give away the butterflies from six of his compositions to encourage political engagement.
Dance of the Butterflies is a striking new artwork by one of Africa's foremost contemporary artists, Romuald Hazoumè. It features swarms of multicoloured 'butterflies' which have taken over Manchester Museum's Living Worlds Gallery, interacting with the Museum's natural history collections. The hundreds of butterflies are made from off-cuts of vibrant African wax-print fabrics from the artist's home country of Benin. Dance of the Butterflies represents a very African take on politics, exploitation and the 'butterfly effect'- how tiny changes within chaotic systems can lead to unexpectedly serious effects. The butterflies are arranged into shapes such as sharks, wolves or birds of prey – common popular images of politicians.
To remind us all of the power of voters to topple or install politicians through the force of democracy, Hazoumè has asked the Museum to give away the butterflies from six pieces in the exhibition on Election Day on May 7th.
This is a fantastic and unique opportunity for visitors to own a piece of contemporary art from a leading West African artist. We particularly want to encourage first time voters to participate, but anyone of voting age can be a butterfly activist.
To participate voters simply come to the Museum on Thursday 7th May between 11am and 4pm, pledge to vote before the end of the day and crucially commit to encouraging one other person, through the gift of a butterfly, to do "something" to engage with politics – whether that be voting, joining a campaign, debating or some other political act.
All the Museum and artist ask is that they let us know what they will do and post about their gift on social media using the hashtag #DanceoftheButterflies.
Nick Merriman director of the Museum said:
'Romuald Hazoumè's work is intensely engaged with the politics of the modern world. He sees each of us as 'butterfly activists' who can make or break politicians and it's wonderful that he is prepared to give away these pieces to remind us of our power.'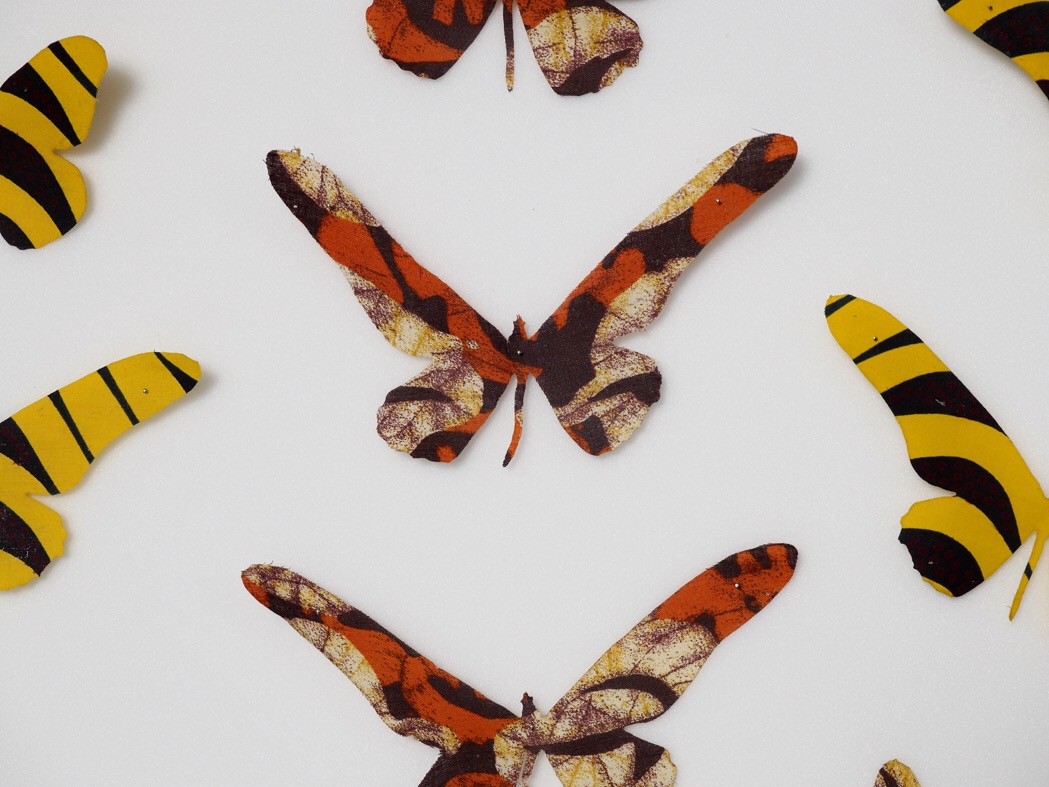 The fabrics Hazoumè uses for Dance of the Butterflies have unexpected links to Manchester's industrial past as a centre for cotton manufacture. Although regarded as quintessentially African materials, 'African' wax-print fabrics have historic links with 19th century European manufacturing, with competing Dutch and English companies vying to develop a West African market for their own industrially printed cotton fabrics. The Western entrepreneurs produced an ever-increasing variety of printed patterns that were specifically designed to appeal to African tastes. One of the dominant brands of colourful cotton wax-print fabrics came from the ABC Wax Company of Hyde in Manchester, which in its heyday was exporting some 20 million yards of wax-print fabric to West Africa each year.
In Africa, the production of indigenous fabrics, and the traditional weaving and dyeing processes upon which they depended, was severely damaged by this invasion of foreign mass-produced fabrics which deliberately imitated the motifs of traditional African textile designs.
Hazoumè's Dance of the Butterflies captivates not only because of the beauty of the individually crafted butterflies, but also because it suggests a more complex political and social message. The individual butterflies come together in groups to suggest resemblances to other natural forms such as a shark, a dove, a vulture or a crocodile. For Hazoumè, these animal forms combine to mimic characteristic political 'types' in Africa and elsewhere in the world, those larger-than-life characters who represent the wishes of the multitudes who follow them and whose actions may have far-reaching consequences for all.