They are still in what is known in the trade as soft opening mode, but About Manchester was invited along to the City Centre's latest gastronomic opening, Pep Guardiola's Tast Cuina Catalonia on King Street for a lunchtime soiree. 
Roughly translated, it means 'Taste from the Catalan Kitchen', spread over three floors in the style of a Catalan castle. Pinya, a casual dining and bar area on the ground floor, Folre, a first-floor dining room with open kitchen where we ate and a second floor Enxaneta, still getting up and running with private dining rooms .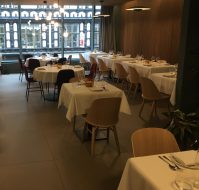 This is the brainchild of Pep Guardiola, Txiki Begiristain and Ferran Soriano with multi-Michelin star chef Paco Pérez who reputation is already well established through Miramar,
in Girona, Enoteca at the Arts Hotel in Barcelona and Restaurant Cinco at the Hotel Das Stue in Berlin.
His head chef here at Tast is  Miquel Villacrosa, just twenty seven,formerly head chef at Restaurant Cinco after seven years working under Paco Perez, including a year in the kitchen at Miramar.
We were graciously given numerous dishes to try,the Duck'in Donut, a strange brew of duck liver,chocolate and raspberry which by all accounts, me being a non meat eater worked very well, a sandwich of Tou de-lers cheese and truffle confit, which personally I wasn't too sure about and the traditional Catalan Croquettes of a choice of ham or sweet re pepper.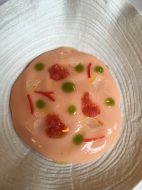 People associate Tapas with certain dishes but what came next was not that assocaition but some very surprisingly good dishes.A superb King Crab,tomato and basil dish, make sure your spoon reaches right to the bottom to get the crab, we were told, wonderful green asparagus with bauma cheese cherry tomatoes and rocket.
Then for me the centre piece, octopus, romesco potato and a foam of oloroso wine, the Cephalopoda  melting in the mouth combined with the sweet flavours of its surroundings.
Still there was more, the Arros de Verdures, rice vegetables and herb mayo served on a tray straight from the oven, it also comes with meat or prawns and finished off with a Catalan tradition, Puff pastry, infused with custard and a dark chocolate sauce.All washed down with a selection of Catalan wines.
Of course in this early stage it is difficult to assess the restaurant fully but on this selection of dishes, for me its a winner