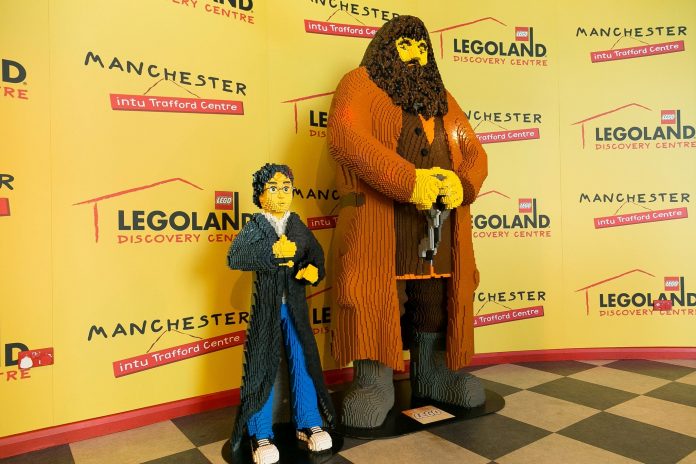 Legoland Discovery Centre Manchester's £5,000 replica of Harry Potter was stolen in Nov 2015, leaving behind only one foot, and has recently resurfaced on eBay.
Even the world's most fun job, being paid to play with Lego, it seems can have its bad days. Items marked as missing by the Master Model Builder include a 5ft tall replica of J K Rowling's hit character, Harry Potter (albeit, one foot remains in the attraction's possession).
Exotic bird, 'Scarlet' the ruby-red Lego Macaw and around 75,000 individual Lego system bricks and building wheels.
Harry was first reported missing in November 2015, leaving behind just a foot at the Barton Square based attraction. Measuring an impressive 5ft, made from just Lego system bricks – each brick hand laid, glued and carefully lined up – the Gryffindor character was built to impress, dressed in his wizard house colours of black, yellow and white.
However, it seems the cloak of invisibility has recently fallen surrounding Harry's disappearance, as Legoland Discovery Centre bosses have received sightings of Harry on eBay, believed to be worth around £5,000.
The Master Model Builders, who glued down over 100,000 individual bricks to make Harry would like to see him return home, alongside 'Scarlet' a true to scale red Macaw parrot worth around £500, fearing a serial Lego character napper could now be on the loose.
Legoland Discovery Centre Manchester invests £50,000 per year replacing bricks and wheels from the imaginative play-led visitor attraction popular with children, families and AFOLs (Adult Fans of Lego).
Master Model Builder, Alex Bidolak, said: "Creating a world of pure imagination, and all from ordinary shop-bought Lego bricks, is what Legoland Discovery Centre is all about. Everything we make, you could make at home – sure, we're lucky to have so many bricks here to play with but we want every child to feel limitless in their own creations, builds and masterpieces".
"We expect our features to be touched, it's a hugely tactile environment and we encourage little minds to get hands on in exploring the centre! Carried away in play, we also know how a few LEGO bricks can later turn up in your pocket, handbag – lunchbox even! We struggle to imagine someone accidently dropping a 5ft Harry Potter build into their pocket however…
"That's why on Wednesday 7th February we're launching the 'Honesty Box'. We just hope we'll see Harry returned too."
Legoland Discovery Centre Manchester's Honesty Box will be installed today, in time for February half term. The box will be emptied on a regular basis, all of the LEGO handed in will be collected and donated to children's charity Merlin's Magic Wand.