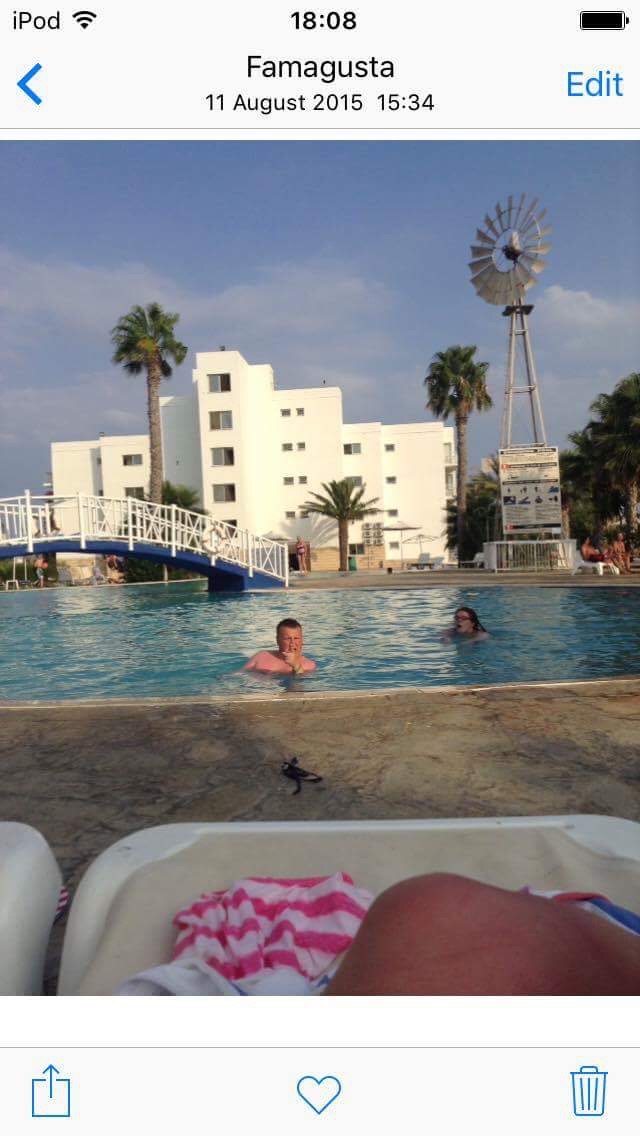 A fake sickness fraudster from Eccles has been ordered to pay Jet2holidays more than £6,000, after his ex-girlfriend presented compelling evidence to prove that his compensation claim for gastric illness was completely fraudulent.
Liam Royle, 23,  was found fundamentally dishonest by District Judge Iyer at the Civil Justice Centre in Manchester this week, after the package holiday specialist challenged his claim in light of the evidence, which included video footage of him dancing to Gangnam Style by the pool.
Mr Royle had made a bid for compensation after claiming that he had suffered for five days with stomach cramps, diarrhoea and vomiting, as a result of food poisoning whilst on a week-long holiday at the Papantonia Hotel Apartments in Cyprus in August 2015.
However, Mr Royle's ex-partner, who was on holiday with him at the time, was able to provide evidence proving that these claims were a complete fabrication after becoming aware of them – something she described as 'astounding' and 'wrong'.
In Mr Royle's claim, he stated that he suffered from 'personal injury' and a 'loss of enjoyment' on his holiday, including 'missing meals, excursions, swimming time and other general activities'. However a dossier of evidence given to Jet2holidays by Mr Royle's ex was used in court by the company to prove that he had been fundamentally dishonest.
This evidence includes video footage of Mr Royle dancing to 'Gangnam Style' next to the pool on one of the days that he was allegedly ill, as well as photographs taken on the holiday showing Mr Royle swimming in the pool and enjoying the evening entertainment.
Despite claiming that he was suffering from gastric illness, the evidence also shows that Mr Royle took a 15-minute taxi ride to Ayia Napa, where he walked around the shops and ate a McDonalds. It also states that he did not skip meals, that he drank beer and cocktails, and that the holiday was 'fabulous'.
When giving his judgment, District Judge Iyer said: "Even applying the most rigorous test, I cannot avoid the finding that there has been dishonesty in his claim of sickness. A statement of truth was signed by Mr Royle knowing that it contained fundamental lies, and he gave incorrect information to his medical expert, and as a result a claim was issued."
Steve Heapy, CEO of Jet2.com and Jet2holidays said: "We have worked very hard to tackle the problem of false sickness claims and to protect holidaymakers against the risks of getting involved in such dishonest activity, but unfortunately there is a minority who think that they can get away with it. This judgment shows that there are very real consequences to making false sickness claims, and Mr Royle must now pay the price. We would like to thank Mr Royle's ex-girlfriend for her honesty, and although this is an unusual case, anyone making a fake sickness claim should be fully aware that we will robustly investigate and defend any claims that are dishonest or illegitimate."
Simon Hammond, a partner from BLM, who conducted this litigation, commented in respect of this judgment: "This just goes to show the courts will not stand for individuals seeking to try and mislead them for financial gain and will punish those appropriately who do so."
In some quarters Britain has been referred to as the 'fake sick man of Europe' after unscrupulous businesses and touts were able to exploit a legal loophole and encourage a huge rise in fake sickness claims over recent years.
Jet2holidays has led the campaign to stamp this out and in April this year, the Ministry of Justice announced the extension of Fixed Recoverable Costs to cover holiday sickness claims brought under the Package Travel Regulations, making defence costs predictable and thus deterring bogus claims.
The Government also followed this up by clamping down on the practice of cold calling without consent, and further proposals are being put forward by the Financial Conduct Authority when they take over regulation of Claims Management Companies (CMCs) from April 2019 to ensure there is an end to misleading practices and dishonest activity.