A very unique arrival was born at Tatton Park on Sunday 16 July. Named Secret
Sensation (after her great-great grandmother, Arclid Sensation), the rare female
Shire horse was eight days overdue and had been excitedly anticipated by all at
Tatton.
Visitors to the Farm leading up to her birth were treated with a sneak peak
vet scan of her mother, Tabitha's, tummy as part of Tatton Park's Secret Stories
events for 2017.
Now listed on the Rare Breed Survival's Trust Watchlist, Shires are becoming less and
less common.  There are only an estimated 900 to 1,500 registered Shire horses in
the UK, making them a breed under threat. Once an adult, Secret Sensation will
hopefully go on to breed foals herself to preserve this unique horse breed.
From Tuesday 25 July, visitors to Tatton Park's Farm will be able to visit Secret
Sensation everyday from 12 to 5pm.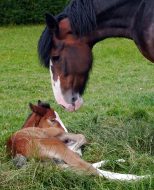 Jayne Chapman, Tatton Park Farm Manager, said: "The secret is now out. She's a girl!
We're so excited to welcome Sensation into the world and we're sure our visitors
will love her as much as we do. This really is a unique opportunity to meet this very gorgeous little foal.
"Shires and their breeding are part of Tatton's history since the 19 th century when
Wilbraham, first baron of Egerton, was renowned for breeding these magnificent
animals, the most famous being Tatton Dray King who won the King George IV Gold
Cup in 1908 at the London Show.
"Let's hope Sensation follows in the hoofprints of her famous relations and makes a
truly, sensational champion."