A celebrated fashion photographer and contemporary artist made an appearance at King Street last week to showcase his latest collection.
Raphael Mazzucco flew over from the United States to visit Castle Fine Art, King Street on Thursday 20th July when visitors were able to view his Exposure collection and discuss his inspirations and techniques. The body of work is now on display for a further week until Thursday 27th July.
Many months in the making, Exposure is a series of printed paintings capturing the female form. It saw Mazzucco collaborate with Canadian artist, Oly Bernardi, to adopt an entirely new technique, transforming a container into a dark room to process each image.
Mazzucco is one of the world's most influential and talented fashion photographers. After years spent honing his craft in Italy, France and Amsterdam, his arrival in New York City garnered attention from some of fashion's elite and saw him work on photographic campaigns for the likes of Victoria's Secret, Guess Jeans, L'Oreal and Ralph Lauren.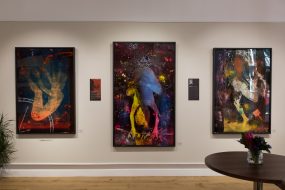 His work has appeared in L'Official, French & Italian Vogue, L'Uomo Vogue, Marie Claire, Playboy and Vanity Fair, featuring not only his editorial fashion photography but celebrity portraiture of notable actors including Benicio Del Toro, Matt Damon, Susan Sarandon and Elizabeth Banks.
Deciding to swap the camera for canvas over seven years ago, Mazzucco's arrival onto the art scene has been met with widespread critical acclaim, with Damien Hirst purchasing one of the artist's collections for over $750,000.
Raphael Mazzucco said: "I was inspired to start work on Exposure when I saw a boat loaded with shipping crates and had a vision to acquire one with old-style photography in mind. I bought a 2000 square foot container and transformed it into a dark room for a process called 'monoprints' –  the most painterly method among the printmaking techniques. Seeing the print slowly emerge was incredibly nostalgic and rewarding.
"Manchester is a beautiful city bursting with culture and life, so it was the ideal location to showcase my work. It was wonderful to meet visitors to the gallery and I hope they enjoyed the new collection." 
Nicholas Beese, gallery director at Castle Fine Art, King Street – Washington Green Fine Art's nationwide network of high street galleries, said: "Mazzucco's work is celebrated all around the world and, when you look at the level of detail and prowess that goes into each piece, it's easy to see why.
 "The passion he has for what he does is immense and we feel very privileged to have welcomed him to the gallery. I hope our guests left the event feeling very inspired after listening to Raphael talk through his collection."
Prices start at £695.00 for limited edition prints and £6,950.00 for original artwork