Leading Barber, Joseph Lanzante has expanded his well-established brand by opening his third barber shop in Victoria Station earlier this month.
Following his successful business empire which includes two thriving barber shops and a world-class training facility in Accrington, 'The Mens Room, Manchester' will see the internationally established stylist bring his expertise to the City Centre.
With more than 30 years in the business, Joseph Lanzante's credentials are second to none. Trained at the prestigious Alan International Hair Salon in London's Knightsbridge, he became the international trainer for an American salon franchise, one of the largest in the world, boasting 2800 establishments.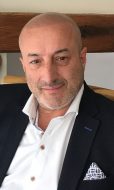 The Mens Room, Manchester is the next big step for Joseph as he expands his barbering craftmanship into the North West.
The new barbershop has four chairs and will introduce six positions for inspiring barbers and hairdressers who are willing to go through his rigorous training to meet his high standards. Having already made a name as one of the UK's top trainers, Joseph will be ensuring his employees attain the highest level of skill.
Joseph recognised the opportunity to invest into Manchester and especially Victoria station. Joseph commented, "Manchester has become the powerhouse of the North, it's a great city to be in and every year it continues to grow."
"Victoria station itself is a thriving community and I jumped at the opportunity to open a business here. I am so excited to be able to bring The Mens Room to this remarkable city."
Joseph chose to invest in Manchester and particularly Victoria Station to help build the profile of this iconic building. The Mens Room will help to bring in more clientele, making it not only a travelling destination but a retail spot for all to enjoy.
The new barber shop in Victoria station will undergo an exciting refurbishment to fall in line with the Joseph Lanzante brand. Keeping in with the stunning architecture of the grade II listed building, the new refit will be finished in a timeless barbershop style, complete with marble, mahogany and other sumptuous materials to ensure customers feel special during their time in the chair.
Joseph will be bringing his barbering expertise to the city centre location, including his classic Cut Throat Shave, which the stylist believes is an important aspect of the industry that isn't used widely enough.