Four National Trust places across the North West are set to host Christmas celebrations this winter that will give visitors a fascinating, first-hand glimpse into the festive traditions synonymous with their roots.
Over the coming weeks, each place will take visitors on a journey through their past to explore how traditions of that period, have influenced Christmas as we know it today.
Katie Taylor, regional curator commented: "Throughout history, seasonal traditions and customs have changed to reflect the culture and economy of that time. At Little Moreton Hall, Quarry Bank, Lyme and Speke Hall this winter, visitors will have a unique opportunity to piece this timeline together.
"From sampling hot spiced drinks at the table of a burgeoning Tudor feast to having a go at making a Georgian-inspired 'stir up pudding', enjoyed by mill-working apprentices, and learning some Regency dance routines, visitors can expect to immerse themselves in the traditions of those eras as they journey along this regional tour of Christmases past."
Visitors looking to embark on this Christmas tour through time, are invited to begin their journey in the Tudor period at Little Moreton Hall in Congleton.
From 
29 November to 17 December
, the manor house will be welcoming visitors with a warm spiced drink and ginger biscuit to sample while they explore the dazzling Yuletide decorations and displays throughout the property. At the weekends, the Great Hall will come to life with live music, choir singing, storytelling and jesters: a fitting way to honour the grandeur of a Tudor Christmas.
As can be seen around the house this winter, the Tudors chose holly, ivy and mistletoe to decorate their homes rather than a tree.
However, some of their more indulgent choices can still be recognised today. While fasting before Christmas Day is not a tradition now observed, feasting on 
25 December
 is and the Tudors would indulge for 12 days in a wealth of delicacies including salmon, oysters, roast pigeons, smoked eel and chutneys with the centrepiece being a Marchpane cake: a sugar paste creation made with marzipan.
Using expensive ingredients such as sugar and spice demonstrated wealth so sweet treats such as gingerbread biscuits, hazelnut shortbread, almond biscuits, fudge raisins and, familiarly, mince pies were plentiful.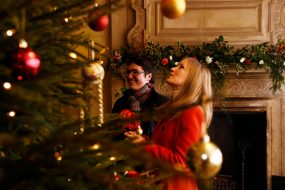 Taking a less indulgent but equally joyful approach to Christmas is Lyme in Disley. Situated on the edge of the Peak District, Lyme will be honouring its Regency owner, Thomas Legh, by focusing on the celebrations of the season where the emphasis was on spending time with friends and family at parties and gatherings.
Homes would be decorated with simple cuttings from gardens and parks, kisses would be given under kissing boughs and yule logs would be collected to be burnt on Christmas Day.
From 
24 November to 24 December
, Lyme will be echoing this simple but high spirited approach to the festive period by hosting a series of choral performances and families will be invited to take to the dance floor as Regency Rejigged lead the way with 17th century choreography.
At 
Quarry Bank
 in Styal, visitors will have a unique opportunity to see what a Georgian Christmas was like for both the cotton mill workers and the mill-owning Greg family. From 29 November to 
7 January
, a series of events will chart everything from preparing for Christmas through to the festivities and the Twelfth Night celebrations.
In the Apprentice House, families can try their hand at making 'stir up pudding', a currant loaf treat that the apprentices would have enjoyed with a cup of tea, while in contrast, in Quarry Bank House, visitors will be greeted as guests at a slightly more decadent yet still understated, Greg family festive gathering.
With the onset of the Industrial Revolution, even the mill owners' celebrations were somewhat subdued as more and more time was devoted to work. However, simple traditions were still observed such as the giving of small gifts to one another, as well as to staff, and the enjoyment of seasonal favourites such as King George's Christmas pudding, mince pies and Wassail.
Finally, from 
25 November to 10 December
, visitors will see a Victorian Christmas come to life at 
Speke Hall
 in Liverpool and see many traditions that a modern day Christmas echoes most accurately such as carols, Christmas trees and traditional games.
With advancements in Victorian technology, industry and infrastructure, which had an impact on society as a whole, Christmas was now an occasion that many more British people could enjoy. Whereas workers in Georgian times barely had the opportunity observe Christmas, Victorian servants were able to celebrate, even just with simple paper garland decorations in their quarters, making the occasion a much more inclusive time of the year.
At Speke Hall, the outside will come inside as handmade garlands bedeck the ground floor and fill the property with seasonal scents and families will have the chance to have a go at making sugar mice before heading to Home Farm, via the Christmas treasure trail, to listen to carols.