Belle Vue have confirmed the return of British sensation Kyle Bickley and the addition of Ben Woodhull to their National League side as their 2018 team-building plans continue to fall into place.
Already a seasoned international, Bickley, of Whitehaven, Cumbria, made his greatly-anticipated National League debut in 2017, bringing with him a wealth of experience that belied his years.
 So rapid was his progress throughout the campaign that he completed the season having added no less than 3.67 points to his starting average of just 3.00, something he's determined to build on this year.
Bickley said: "I'm over the moon to be back at Belle Vue this year. I won the league with them in 2017, and the fans and management are brilliant. Really, I couldn't be riding for a better club.
 "I've got plenty to prove this season. I'm looking forward to new challenges with Workington and hopefully making even greater progress in the National League. I'm really looking forward to it."
 Though he did not feature as prominently as his twin brother Luke, Ben Woodhull is no stranger to the National Speedway Stadium having made a number of appearances as the Colts' 2017 No.8.
 He went on to pursue a full-time opportunity with Buxton mid-season but remained a frequent presence in his brother's pit area and took every chance he could to put in some post-meeting laps.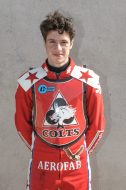 Woodhull said: "I'm delighted to have the opportunity to ride for Belle Vue on a full-time basis this year. I feel I wasn't able to fully demonstrate my capabilities riding at No.8 last season.
 "I spent a lot of time on the spanners for my brother so I'm hoping to learn from his experiences in the team to help me make a similar impact to him, but I'm not adding any extra pressure to myself."
Bickley and Woodhull line-up alongside fellow returning rider Jack Smith, while fans can expect another double Colts announcement on Friday, January 26.
Words: Hayley Bromley