The transformation of one of Europe's busiest bus routes is now officially complete – marking the culmination of one of the most ambitious highway projects Manchester city centre has ever seen.
Transport for Greater Manchester (TfGM) today celebrated the completion of Oxford Road alongside some of its key partners, including the University of Manchester, Manchester Metropolitan University, the Royal Northern College of Music and Central Manchester Hospitals.
The new-look Oxford Road, complete with 'Dutch-style' cycle lanes, new bus facilities, improved pedestrian spaces and better public transport links, is now a real benchmark for highway design in the city.
Alongside the Leigh to Ellenbrook guided busway, Oxford Road forms a key part of the wider £122 million Bus Priority Package – a five-year programme that set out to deliver quicker and more reliable bus journeys for thousands of people each day.
Andy Burnham, Mayor of Greater Manchester, said: "Having seen and experienced first-hand the tremendous impact the Leigh guided busway has had at the other end of this monumental scheme, it's absolutely great news to see Oxford Road finished – it's a fitting bookend to a pioneering project.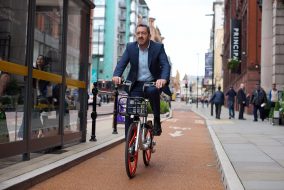 ford road"My office is on Oxford Road and I have seen for myself just how many people are taking to two wheels now the new infrastructure is in place. The cycling facilities are second to none and it's most definitely a cleaner and greener gateway into the city centre.
"Looking ahead, I hope that we are able to deliver more schemes like this to give people real choice around their transport options."
One of the most notable improvements to Oxford Road comes in the shape of cycle lanes that are separated from the road – making it easier and safer to travel along one of the city's busiest commuter routes. The end result is the delivery of some of the best cycling facilities in Greater Manchester.
Chris Boardman, Greater Manchester's Cycling and Walking Commissioner, said: "It's a fantastic piece of infrastructure which I hope we'll be able to replicate in many other parts of the region.
"The cycle lanes are really important – they were designed in close consultation with walking and cycling groups, creating segregated lanes to make a safer and ultimately more appealing space for everyone.
"This is the kind of thing that will get more people out of their cars and onto their bikes and so I hope to see many more schemes like this going forward."
In partnership with Manchester City Council, TfGM worked closely with key Oxford Road institutions and businesses for more than four years to ensure that the final design met with the needs of some of the region's best education, health, employment and leisure facilities.
Diana Hampson, Director of Estates and Facilities at the University of Manchester and Chair of the Oxford Road Corridor Partnership, said: "The new look Oxford Road is great news for students, staff and visitors, many of whom already cycle or travel by bus to the University.
"Oxford Road is quieter and cleaner, safer for pedestrians and travel times on public transport have been reduced at peak times.
"The new environmentally sustainable boulevard complements the University's Campus Masterplan, a major investment in new world-class facilities across our estate over ten years."
The now complete Bus Priority Package has seen the delivery of new and improved bus links through Manchester city centre across 25 miles of the network, from Leigh and Salford in the west and Middleton in the north.
Including a guided busway, bus priority measures along the East Lancs Road, cross-city bus links and a completely overhauled Oxford Road, the project is one of the most ambitious TfGM has ever delivered.
Councillor Andrew Fender, Chair of the TfGM Committee (TfGMC), said: "In a year that's already seen us deliver the Metrolink Second City Crossing it's fantastic that we've now added Oxford Road to our portfolio of projects delivered.
"The Bus Priority Package is a landmark project for us as it not only includes the north west's first guided busway but it also factored in a design that enabled true cross-city bus services – something the city centre has sorely needed for years.
"There have been challenges along the way but we overcame them to deliver a lifestyle-changing project that will benefit millions of people for many years to come."
On the opposite end of the scheme, the Leigh to Ellenbrook guided busway opened in April 2016 and the number of people using it continues to grow. The Vantage service, operated by First, sees around 50,000 passenger journeys made each week, while 3.27 million journeys have been made since it opened.
Phil Medlicott, Managing Director of First Manchester, said: "The Vantage service has enjoyed enormous success and we're all immensely happy to see that so many people have chosen it as their preferred mode of transport. We look forward to working with TfGM to make sure we continue to meet their aspirations for Vantage going forward."
The new bus priority measures through Manchester city centre and Oxford Road are also benefitting many more passengers by providing quicker and more reliable journeys in and out of the city.
Elisabeth Tasker, Managing Director at Stagecoach Manchester, said: "As the main bus operator on Oxford Road, the new road improvements were essential to ensure that we can continue to provide one of the country's best bus services.
"These positive changes on Oxford Road will make access to public transport more streamlined and efficient for the customers using this road. The improvements have helped to ease congestion issues and highlight the need for the council to implement further investment into other core public transport corridors."
Find out more about the Bus Priority Package at www.tfgm.com/buspriority.