Two volunteers meeting pupils at the school gates, breakfast clubs where you can complete your homework, or play games and quizzes or a music club where you can compose your own electronic music.
It wasn't like this when when we were at school but Cedar Mount Academy in Gorton is part of a growing project City Year UK, a youth social action charity, begun in America in 1988, in London in 2010 and now in Greater Manchester.
Now an integral part of the school day, the volunteers ranging in age from 19-22 encourage pupils to, both in and out of the class room to engage with and enjoy learning while developing  their own skills.
Conservative Mayoral Candidate Sean Anstee spent some time talking to the team and talking to some of the pupils and if elected Mayor in May is pledging to roll out this scheme across Greater Manchester, promising to work with businesses to ensure that there are over 100 volunteers working across the region, with an impact on over 100,000 pupils.
It is just five weeks since its introduction into Cedar Mount, but the six volunteers and an impact officer are already seeing the benefits.
Twenty year old Natalie Kennedy, says that when she first starting working, with one of my focus listed students, he was truanting a lot and getting into trouble all the time."After a few weeks he came up to me grinning … he hadn't been in bother for three day….I was so proud."
Twenty two year old Caroline Molloy spoke of her experiences just five weeks into the role and said that it had had a profound effect on he communications skills, having to deal with so many differing issues over the days. She added, "we are not much older than the pupils so our relationship is different to that of the teachers."
Scott Lewis, assistant Vice Principle responsible for Behaviour and Attendence at the school said that many of the pupils have built up positive relationships with the City UK team.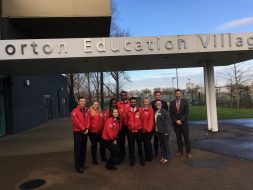 Mayoral Candidate Sean Anstee says that if elected, he would create a uniformed, full-time volunteering programme for the young people of Greater Manchester.
Sean's vision is that the programme would offer participants, aged between 18-25 years old, the opportunity to give between six and twelve months of full-time voluntary service to the city region to; support children to get better grades at school, help the homeless off the street, speed up the recovery of hospital patients and protect the environment and much more.
Further more he adds, he will ask the charities of Greater Manchester to submit their full-time volunteering programme proposals for endorsement by the Mayor's office. If approved the Mayor's office will support the programmes to become established and grow through match funding, enlisting the support of the region's business sector and promoting the programmes to the young people of Greater Manchester.