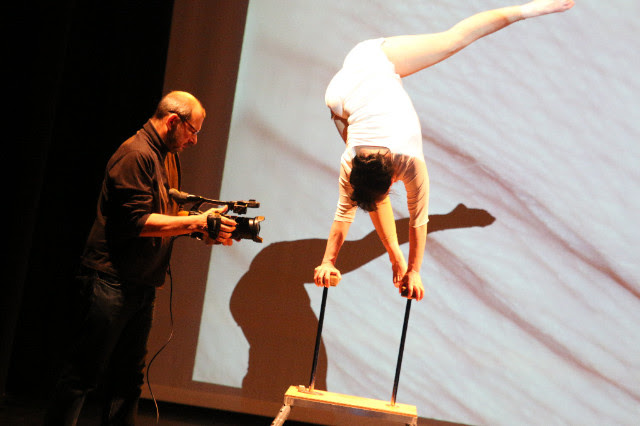 Handstands take centre stage in Natalie Inside Out, a brand new show by Natalie Reckert and Mark Morreau at The Lowry on Fri 20 April.
Marking a unique collaboration between world-class hand-balancer Natalie Reckert and digital artist Mark Morreau, Natalie Inside Out will reveal the inner workings of the circus performer's body at a level of detail usually unseen by audiences.
Turning conventional ideas of circus upside down and inside out, Natalie and Mark will use interactive digital technology to playfully investigate the ways in which digital media can interpret and represent the human body. For instance, cameras filming Natalie's movements will present them as an animation onto a projected screen at the back of the stage.
Using live acrobatic performance, extreme close up slow-motion video, and spoken word, Natalie and Mark take movement on stage and transform turn it into projected landscapes on screen, to reveal the underlying mechanics, emotions and motivations of the circus body.
Mark Morreau is a digital artist who had a circus career spanning three decades, working with the likes of Snapdragon Circus, Zippos and NoFit State Circus.
Natalie Reckert is a circus maker integrating robotic movement, spoken word and hand balancing to create full length shows since 2007.
Natalie Inside Out is part of The Lowry's 'Developed With' series and will premiere at The Lowry in Salford on Fri 20 April before touring to Jackson's Lane in London on Sun 22 April as part of CircusFest 2018.
Listings Information 
Natalie Inside Out
Dates: Fri 20 April
Times: 8pm
Tickets: £12. Concessions £10.
Website