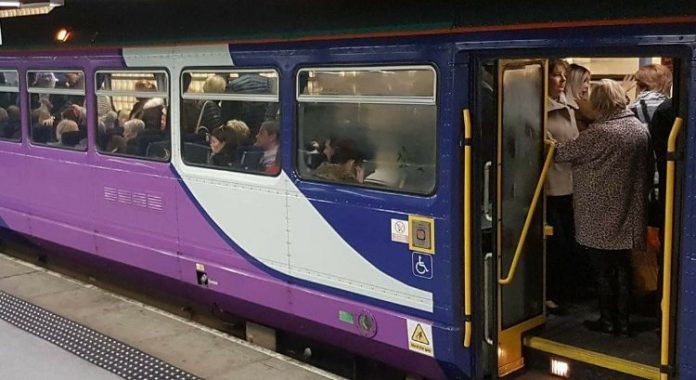 Just over two years ago About Manchester interviewed Alex Hynes, the then boss of Northern Rail.
The occasion was the launch of  two new rail services across Manchester and the North of England, Arriva Rail North Ltd and First TransPennine Express Ltd.
Back then , he told us that, and I quote, "We have spent the last twelve years with our hands tied behind our backs….."The challenge we have is that we have forty four months to transform the quality and capacity of rail services across the North of England in four ways, faster trains, more services,more carriages and more seats, the pace and the scale of the transformation is our biggest challenge but it is one that we will rise to".
Alex jumped ship just nine months later to become the new boss of Scot Rail, his replacement has hardly ingratiated himself with the thousands that travel on the service every day.
Liam Sumpter has been accused of making scathing replies to complaining customers on social media, and was forced to apologise as customers complained of overcrowding, delays and cancellations.
It's just the tip of the iceberg as customers have seen little, if any improvement in the service. The only visible changes have been more ticket barriers to protect revenue while, we are still travelling on trains that should have been retired years ago, dirty toilets, little leg room, no plug sockets, in cramped conditions, with heating systems that barely work while trains are cancelled or subject to strike action and cannot often let on passengers because they are already too full.
Northern have blamed many people for the problems.The RMT union for its continued campaign against moves to bring in driver only trains, Network Rail for delays on the electrification of the Preston to Blackpool line and driver training issues.
Now it faces an official investigation as the Mayor of Greater Manchester, fed up with his twitter feed being full of complaining commuters has written to Transport for the North asking whether Northern has breached its franchise agreement.
That news came on the day that the whole issue of Franchises was being questioned as the Government announced that once again it was taking the East Coast line back into public ownership and the Times reported that even more rail firms could be taken back in public ownership with problems at South Western Railway over mounting delays and two other networks, Greater Anglia and Transpennine Express said to be having financial problems.
Northern say that they are working to solve the problems, yet the new timetable being introduced this weekend seems to be causing even more issues and while customers are promised 2,000 extra services a week, 98 new trains and the removal of the Pacers by 2020, it is surely right to ask the question over two years into the new franchise, what is going to change now.
Andy Burnham may have intervened but in reality he can do little because trains unlike buses and trams do not come under his remit.
Would a transfer back into public ownership resolve the situation? The Labour Party have committed to taking the franchises back under public ownership as they expire, but those with long memories of British Rail in the 1970's and 80's will surely question that strategy.
So, probably being stuck with Northern Rail and its promises, we have some requests.Speed up your introduction of new rolling stock, and extra carriages, communicate what you are doing to the public a lot better, and when you make a mistake hold your hands up.