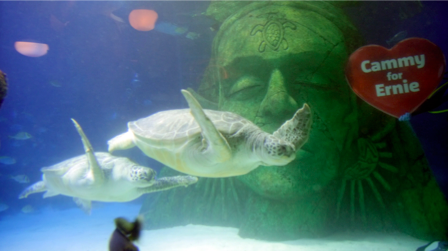 First there was Romeo and Juliet, then there was Kim and Kanye and now there is Ernie & Cammy, two star-crossed green sea turtles with a love story for the ages!
For years Sea Life Manchester's resident giant green sea turtle, Ernie spent his days alone in his tank, longing for a companion to share his ocean-tank view, home and heart with, until along came Cammy…
Cammy, a 16-year-old female green sea turtle and Scotland's most eligible bachelorette, arrived at SEA LIFE Manchester in early August from her home at Loch Lomond Sea Life Centre, almost 200 miles away.
It was love at first sight, with Cammy and Ernie falling for each other instantly, soon becoming Sea Life's hottest power couple.
To celebrate the lovebirds budding new romance, SEA LIFE Manchester is offering free entry at weekends from the 16th of September until the 8th of October, for those who share the same name as Ernie or Cammy.
The two turtles have become inseparable over the last few weeks, enjoying evening swims around their tank, romantic seafood suppers and of course some 'Net-fish' and chill.
They've even been doing couples workouts, adopting the mantra "couples that train together, stay together." Ernie's very own PTT (Personal Turtle Trainer) has created a unique exercise regime, the 'turtle team training method', to allow Cammy to participate.
Emma Whittle, turtle expert at SEA LIFE Manchester said:
 "Cammy & Ernie's epic romance is gripping SEA LIFE Manchester, with all the staff and visitors enthralled by their blossoming relationship.Everyone is overjoyed that they have found each other and that they have hit it off so well. They literally spend every waking moment together, Cammy has really brought Ernie 'out of his shell'. We're all hoping that they're in it for the long haul and will grow old and green together!"
For more information on Cammy and Ernie and to buy tickets, please visit www.visitsealife.com/manchester and for regular news and fantastic competitions join us on Facebook/SEALIFEManchester and Twitter @sealifemanc