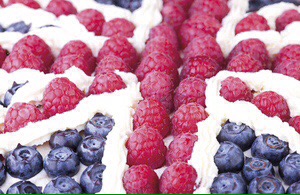 New data spanning back to the 1940s will take people on a culinary tour through the decades – giving a glimpse into kitchens of the past.
For the first time official records of what people ate and how they survived during rationing have been published by Defra. They show 1940s Brits ate seasonally and bought food from butchers, bakers and grocers rather than supermarkets.
Salmon sandwiches, tinned fruit with evaporated milk, fish on Fridays and ham salad for high tea every Sunday were frequently on the menu for 1950s families. People ate four meals a day and relied on gardens and allotments to grow more than double the amount of food they bought.
An appetite for easy to prepare meals began in the mid-1950s, the new data reveals, with convenience foods accounting for nearly a fifth of families spend on food. As technology started to improve and more women began to work full-time – frozen foods, ready meals and takeaways began to transform the British diet.
Environment Secretary Andrea Leadsom said:
This is more than just cosy nostalgia – everyone now has access to this hoard of rich data which shows how technology and social change have transformed our diets over five generations. While foodie fads have come and gone, it's interesting to have seen a recent revival of fresh, British grown, seasonal foods – though today it is through choice, unlike the necessity of the 40s and 50s.
For more than 70 years, families across Britain have filled out in-depth diaries of their weekly food and drink purchases for the National Food Survey.
Today (1 September 2016) Defra has published the oldest versions of the survey reports from the 1940s when Britain's food supply was controlled by rations to the 1970s when technology had advanced and kitchens were equipped with freezers.