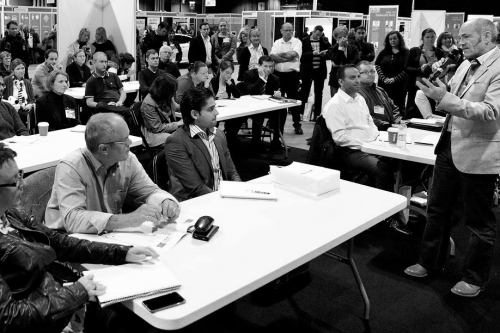 Ever had a light-bulb moment for a brilliant business idea, but no clue how you would ever make it a reality? If so, this year's Northern Business Exhibition could have the answers you're looking for.
With two days packed full of business advice and insights for entrepreneurs, start-ups and SME's the Northern Business Exhibition is all about supporting new and growing businesses. Visitors will enjoy free 1-2-1 advice from industry experts, 100 exhibitors offering a variety of business solutions from accountancy to social media marketing, plus over 80 seminars and workshops delivered by some of businesses' fines speakers.
Dragon's Den star Hillary Devey CBE, Social Chain's CEO Steve Bartlett, Michael Carlin CEO of Zymplify, and Carl Reader the start-up coach are among the wealth of leading industry speakers offering advice on everything from monetising your Instagram account to launching a website and getting funding to bring your business idea to life.
With recent business developments including the raise in minimum wage – which according to research carried out by the Northern Business Exhibition will have a direct impact to the profitability of two in five business owners with 40% fearing a risk of closure – the event is a chance for entrepreneurs and business owners to seek valuable advice to help their business flourish.
The event will also include a unique competition opportunity for visitors – a business pitch to three industry guru's with the chance of scooping £5,000 to help get their idea off the ground. As well as the cash injection, the winner will also get in excess of £5,000 worth of prizes all aimed at helping get them up and running, and unlike Dragon's Den there are no investors looking to take a piece of the pie.
Taking place on the 18 & 19 April between 10am – 4pm, this free event will open in its brand new home at Manchester Central, attracting in excess of 7,000 visitors.
Ceri Rogers, Northern Business Exhibition spokesperson said: "This event is all about helping businesses, start-ups and entrepreneurs develop and grow. From great workshops and seminars to one on one support, if you're looking to take your business to the next level this event is perfect for you."
To learn more about the event and to get free tickets head to: https://www.northernbusinessexpo.com