It's out with the old and in with the new at The Lowry Hotel!
It's time to say farewell to The Lowry Hotel's traditional lunch service …
Give a warm welcome to their bespoke range of limited-edition afternoon teas, coupled by the hotel's very own mix 'Lowry Blend' tea which was formulated by exceptional tea experts.
The 5-star hotel's traditional afternoon tea has been a firm favourite for guests and diners since their opening in 2001. There was such a high demand that The Lowry Hotel had to make the strategic decision to replace the lunch menu and create an impeccable selection of afternoon teas. They will be one of the first hotels in Manchester to progress from the lunch menu tradition.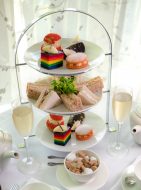 The exclusive afternoon teas will change theme each month, inspired by local events, produce and ingredients. Their new delicious range of afternoon tea begins with a Pride-themed afternoon tea to celebrate Manchester Pride taking place over the August Bank Holiday Weekend, with £1 from every afternoon tea sold being donated to the charity.
During the Pride-themed month, guests can indulge on rainbow layered case, sparkling macaroons and a range of tasty sandwiches.
As a nation we love tea, so The Lowry Hotel has teamed up with Manchester Tea Merchant, James Green of Tea from The Manor to create an exquisite range of teas including The Lowry's own unique blend, to add an extra twist to the hotel's new concept.
General Manager, Adrian Ellis, said: "The demand for afternoon tea has spiked in recent years which is our reasoning behind removing the lunch offering from the hotel menu and focusing on the afternoon tea menu.
"The hotel prides itself on experimenting with new concepts and replacing lunch with an array of bespoke afternoon teas is a testament of this.
"We look forward to sharing the kitchen's innovative afternoon tea themed creations every month, which are made with only the best local produce."  
The Pride-themed afternoon is available in the River Bar and Restaurant from August 1st.