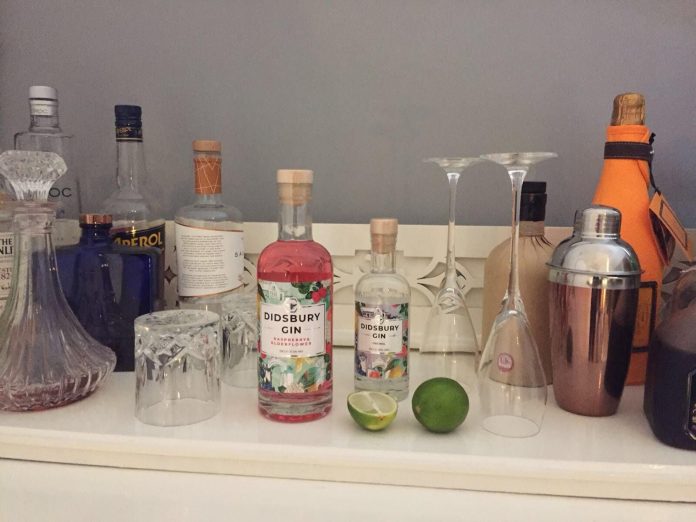 Research reveals the average cost of a household drinks trolley anywhere between £1,000 and £3,000 due to new craft spirit trends
Brits used to hide their booze in the back of a cupboard but now it's all about showing off the investment and knowledge in the lounge for all guests to see! In fact research commissioned by artisan gin makers Didsbury Gin has found that the average household boasts a combined bar of anywhere between £1,000 and £3,000!
The total cost of the average drinks trolley has risen in recent years due to the rise of artisanal drinks and spirits, as well as the likelihood that households are likely to have a varied and expensive glassware selection adding to the cost.
Once written off as relics of the seventies, drinks trolleys have made a huge comeback over the last couple of years with an upsurge in people choosing to entertain at home over going out to a bar, with Brits spending anywhere from £100 to £2000 on fancy drinks trolley for their home it's no surprise that including the contents they can soon become one of the most expensive items in the home.
But it's not the drinks trolleys alone that causes this high average, but the bottles of spirits and drinks lurking at the back of the pile. It was even reported recently that Harry and Meghan included a £1,300 drinks trolley on their wedding gift list for their recent nuptials, to store their variety of alcohol and glassware.
Glassware is also becoming more and more important to consumers, with many households investing in the right glass for their tipple. With the cost of the average glass around £12, it's no wonder the total is so high when drinkers open their cupboards to find a multitude of copas, highballs, champagne glasses, coupes, martini glasses and cocktail shakers.
Households are spending more than £100 a month on building up a stash of drinks, and it's all down to the craft trend, with more than half of the nation's spend on spirits going towards premium and artisanal brands.
The purchase rate of alcohol sees seasonal spikes around key events in the calendar, with many alcohol brands releasing seasonal variations around summertime and Christmas. Consumers are likely to pick up one too many bottles of Pimms or Aperol in the summer, as well as limited editions of their favourite spirit which can remain unfinished for months.
Festive alcohol purchases also play a large part of this cost, as supermarkets gear up every year to sell five times the amount of alcohol around the holidays. Brits are likely to spend as much on alcohol over the holidays at Christmas as they do on presents, resulting in some strange brews lurking at the back of the drinks trolley.
More people are choosing artisanal products over cheaper own brands, meaning the average cost of spirits in the average Brit's drinks cupboard is continuously rising. Supermarkets have been increasing their artisan alcohol portfolio making good quality and varied spirits more accessible than ever before.
Breaking it down:
Drinks trolley £1,000
Spirits – average of 12 bottles each at £28 (three gins, a vodka, a tequila, three rums, a few flavoured specials and random holiday buys)
Seasonal drinks – Average £40 including Aperol and Pimms
Wine – Average seven bottles at £12
Prosecco – Average two bottles at £11
Champagne – one bottle average £45
Mixers – fancy tonics and potions such as Fever-Tree value £35
Craft beer – average six bottles at £2.80
Random gifts and festive specials such as Baileys – four bottles at an average of £27
Cocktail kits including cocktail shakers and strainers – average £35
Glasses – average £250
Over 40m bottles of gin were sold in 2016, but a new record was set in 2017 when 47m bottles were sold, driven by the growth of craft and premium distillers. As drinkers develop a taste for the spirit, they are more likely to upgrade to more expensive brands.
UK gin sales have doubled in value over the last six years, reaching £1.2bn in the 12 months to the end of September, according to the latest market report from the Wine and Spirit Trade Association (WSTA), with sales growing more than any other spirit sold in the UK.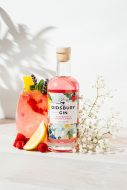 Liam Manton of Didsbury Gin said 'It's amazing how much the artisanal spirits trend has taken off in the last few years, as gin lovers ourselves we sat in our local in Didsbury and chatted about what we would want from a gin – and then created it ourselves! There are so many good independent spirit on the market now it comes as no surprise that consumers are willing to spend a little more to get something of a higher quality, or to their exact taste. With the amount of different premium alcohols and spirits consumers are buying it's no wonder that the amount people have stored in their cupboard adds up to so much, especially since glassware is becoming equally important to ensure you get the most from your chosen tipple.'
Mark Smallwood added 'We recently introduced a new version for summer due to high demand, Raspberry and Elderflower pink gin. It feels like people are moving away from traditional summer drinks, and looking for seasonal variations on their favourite spirits or even limited edition bottles meaning the demand for gin keeps on growing. It's the summer drink of 2018!'
Created by two Manchester gin enthusiasts Mark Smallwood and Liam Manton, Didsbury Gin, has been hailed by Vogue Magazine as 'one of the most exciting new British gins'.