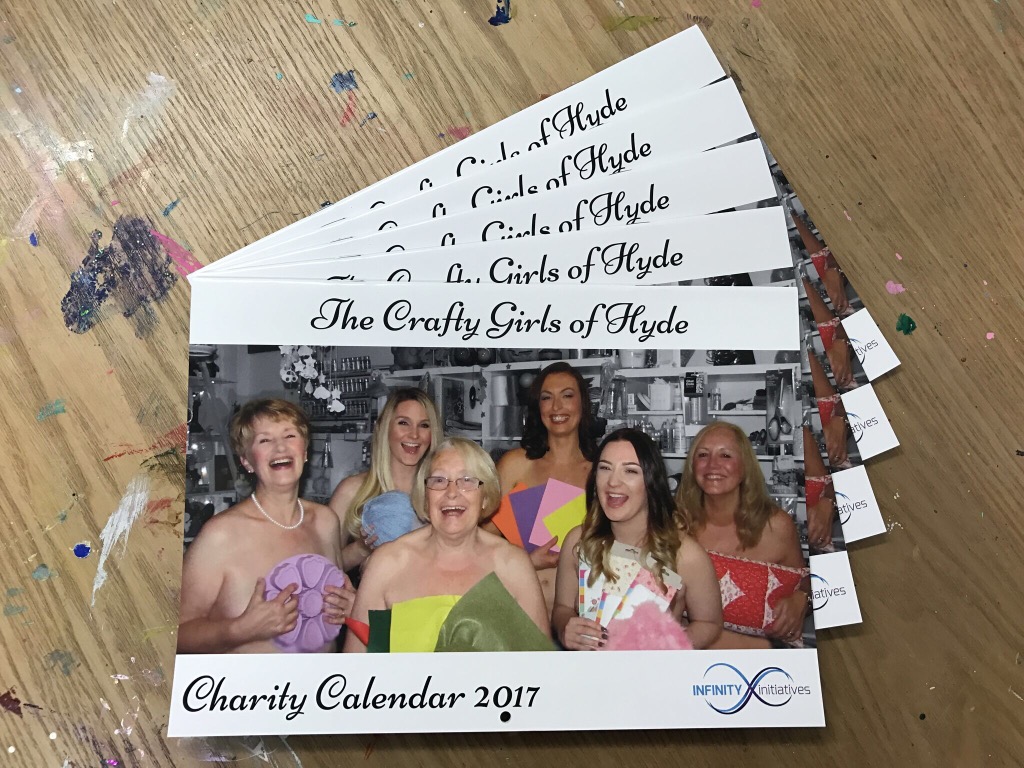 A group of Hyde Businesses have come together to raise money for local homeless organisation Infinity Initiatives (supporting Greystones) through a charity calendar.


The craft based businesses who collectively call themselves "The Crafty Girls" have stripped down to produce a calendar girls style naked calendar. A different business appears every month with ladies from the business posing along with strategically placed craft supplies, with photos shot on location at local business venues.
Karen Dorney, Owner of Paper Tulips has led the Crafty Girls partnership which is made up of 20 ladies. Speaking about the calendar she says, "We really wanted to do something to help Infinity Initiatives. The work that they do locally around homelessness and homeless prevention is extremely important and we thought it was key to not just raise money but to make a statement to highlight awareness of the work they do. The calendar was an idea we started just 4 weeks ago and has snowballed ever since."
There are an estimated 1000 homeless children in Greater Manchester living in emergency accommodation right now according to one media report and last year the number of people sleeping rough rose by an estimated 50% across Greater Manchester. Talking about the work they do Gemma Clayton, Director of Infinity Initiatives says, "Sadly homelessness is a growing problem across the UK. Our work covers the practical side of providing shelter, food and clothing but also a lot of what we do is prevention, working with hard to reach families, providing debt advice, skills workshops and courses on independent living. So much if what we do is helping people to get their lives back on track and ensuring that this is sustainable."
So far the Crafty Girls have raised £1,300 to cover the production of the calendar and this has largely been through the generosity of around 30 local business. The calendar goes on sale on the website, in Paper Tulips and in some local shops, costing £7.50 and the team have a target of £5000.
Speaking about the calendar project, Gemma Clayton added, "We cannot thank the Crafty Girls enough for putting together the calendar project. This support from local business is fantastic to see and I hope we can build on this positivity to provide opportunities for some of the people we work with. The money raised will enable us to keep helping local people and will go towards preventing people from ending up on our streets."
The Crafty Girls calendar is available to buy now……………… all proceeds go to Infinity Initiatives homelessness projects.