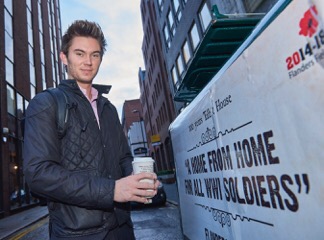 As part of this years centenary Visit Flanders has launched a search in Manchester to find men who served in WW1 and passed through home-from-home Talbot House.
This very British 'home from home', in the midst of Poperinge, near Ypres, Flanders, was close to one of the busiest battlegrounds on the Western Front during the Great War.
Soldiers would flock to the house, located behind front lines and seek solace and respite by gathering around its famous piano whilst enjoying its English garden, a cup of tea and a piece of cake.
Now the living museum, which is open to visitors and B&B stays, is keen to unearth stories, letters and pictures which tell the story of life in the Flanders Fields home 100 years on.
Marking the centenary, an interactive act of remembrance to take place on Queens Street and Newton Street initiated by VISITFLANDERS.
Passers-by in Manchester will be offered tea tomorrow (Dec 15), from 8am in the morning, served in special remembrance cups to enlighten them about the role Talbot House played during WW1 for British soldiers.
Opened December 11,1915 by army chaplains Neville Talbot and Philip 'Tubby' Clayton. Talbot House was opened on December 11th 1915 by army chaplains Neville Talbot and Philip 'Tubby' Clayton, and played a key role as a place where soldiers could meet with friends and forget about the war for a short moment.
Nowadays, Talbot house is a living museum, where visitors can enjoy a 'historical overnight stay' and enjoy the simple pleasures of a cup of tea, a piece of cake and play the original piano, as the soldiers did in 1915.
A new documentary about Philip 'Tubby' Clayton, was premiered on December 12. In the film, footage from the last surviving friends and family who knew Clayton, recount their stories of him and of Talbot House. Now Talbot House want to uncover more stories, so the search is on to find Manchester soldiers who may have stayed during the war. We want to hear from you! Do you have family or friends who heard tales of Talbot House from late relatives, or have letters or pictures which were passed down? Please get in touch at the link below.
Talbot House provided "an oasis of serenity in a world gone crazy" for the soldiers who were fighting in some of the war's fiercest battles along the Western Front.